Prince William undergoes £180 buzz cut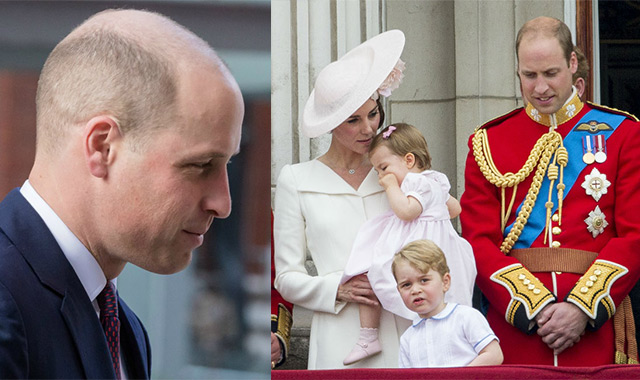 Prince William has undergone a £180 haircut after growing tired of his brother Prince Harry teasing him for "going bald".
The 35-year-old royal has employed his wife Duchess Catherine's hairdresser Richard Ward and his deputy Joey Wheeler to dramatically trim his tresses into a barely-there buzz cut after his younger brother Harry incessantly teased him about losing his hair.
A source close to the hairdressers told The Sun newspaper: "Wills sought Richard's advice, but it was Joey who was the one to visit the Palace and give him his new buzz cut.
"The Prince got sick of being teased by Harry about going bald and this seemed like a practical solution - and one that should stop all the digs too."
Prince Harry, 33, has poked fun at his older brother's receding hairline for many years, after the Prince started losing his locks at a fairly young age.
He once quipped: "I think he definitely is brainier than I am, but we established that at school, along with his baldness."
Although he has now taken measures to stop the teasing, William previously joked about his lack of hair when his son Prince George, now four, was born in 2013, as he said the tot had "way more hair than me, thank God!"
William's new look has been given the seal of approval from celebrity hairdresser Adee Phelan, who thinks the transformation makes the royal look "a million times better".
He said: "William looks amazing - a million times better. When you're going bald you have two options. A skinhead transplant known as scalp micro pigmentation so it's less apparent you're going bald. Or you just lump it off."
However, some hairdressers were left perplexed by the whopping £180 price tag accompanying the cut, but noted that the hefty fee was likely a result of the work being carried out in the privacy of their home in Kensington Palace, rather than in a salon.
Anthony Kent - a barber from Birmingham - said: "That price has no relation to the actual cost - if Wills came in here he'd get the same cut for just over a tenner. I guess it's the price of privacy. He's paying for them to be discreet."
Follow Emirates 24|7 on Google News.