Princess Eugenie and Jack Brooksbank 'to marry in October'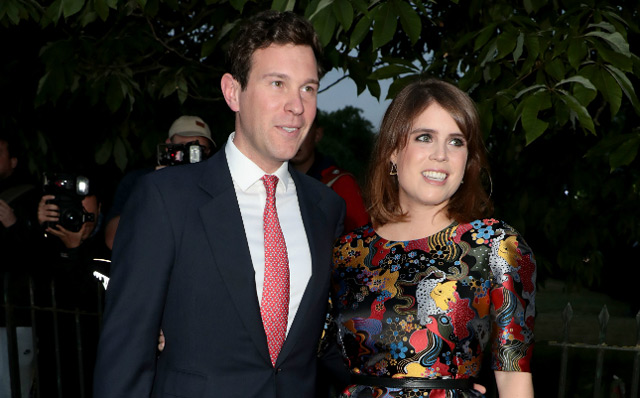 Princess Eugenie and Jack Brooksbank look set to marry in October after his grandmother Joanna Newton admitted the pair were keen to tie the knot in September but have settled for one month later.
The couple are said to have been keen on a September nuptials, but his grandmother, Joanna Newton, 91, has hinted they have settled on one month later because some of the Royal Family had prior engagements.
She told Mail Online: "It will be down in Windsor and it will be in October.
"I do know that they're now not going to get married in September. He [Jack] said, 'We can't get married in September now so we will have to get married in October.
"They [the Royal Family] have got something else going on then I think so they couldn't. So he just said that if they can't get married in September they will have to get married in October."
Joanna cannot wait to see her 31-year-old grandson tie the knot to the princess, 27, and is also looking forward to meeting the royals because she is a huge fan of the famous family.
She added: "Of course I shall be going to the wedding, I'm granny. It's very exciting because I'm a massive fan of the royals and it will be lovely to meet them.
"I don't see why it should rival Meghan and Harry's wedding."
The couple are to marry at St George's Chapel in Windsor - the same venue as Prince Harry and Meghan Markle's May 19 wedding - and insiders believe the pair were keen to wed "quite quickly" following their recent engagement.
A source told the publication: "Eugenie and Jack are keen to tie the knot quite quickly, and there certainly wouldn't be any issue as regards the booking of the chapel given who her grandmother is.
"But the issue is that some members of the Royal Family already have commitments in the diary.
"There is talk of a number of foreign tours for Prince Harry and Miss Markle this year, and September is a date that has been mooted. There is nothing concrete yet, but it looks as if Eugenie and Jack will go for October instead."
It's not known where Eugenie and Jack will hold their wedding reception, but she previously indicated on her Pinterest social media account that she is a big fan of Petersham Nurseries in Richmond, south west London.
She once wrote: "Love the Petersham Nursery in London as a wedding destination xx (sic)"
Follow Emirates 24|7 on Google News.