Priyanka Chopra is 'proud' of her looks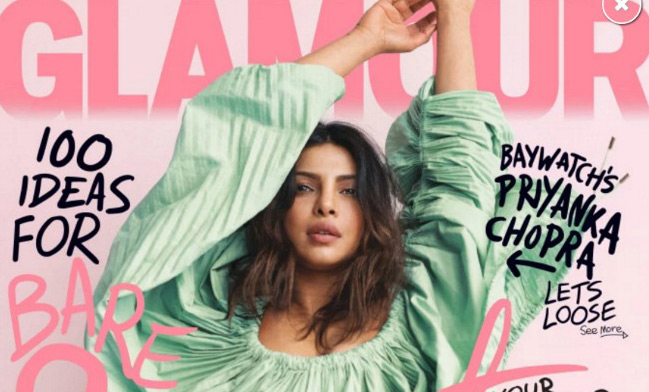 Priyanka Chopra is "proud" of the way she looks after she embraced her skin tone and stopped using "skin-lightening creams".
The 34-year-old actress has admitted that whilst she spent her younger years using "skin-lightening creams" in an attempt to hide her "insecurities", she now fully embraces her "darker skin" and is happy with her looks.
She said: "A lot of girls who have a darker skin hear things like, 'Oh, poor thing, she's dark. Poor thing, it'll be hard for her.'
"In India they advertise skin-lightening creams: 'Your skin's gonna get lighter in a week.' I used it [when I was very young].
"Then when I was an actor, around my early twenties, I did a commercial for a skin-lightening cream. I was playing that girl with insecurities. And when I saw it, I was like, 'Oh s**t. What did I do?' And I started talking about being proud of the way I looked. I actually really like my skin tone."
The 'Baywatch' star also recalled one instance in school where she met a particularly nasty bully, and blamed those experiences for people being "afraid" of expressing who they truly are.
Speaking in the latest issue of Glamour magazine, the brunette beauty said: "I don't think a lot of people understand what Indians are. And that's our fault, a little. We tend to forget our roots a bit. As kids [we think], 'If I'm too Indian, I'll be put in a box, and people will think of me as different. They'll think I'm weird, because I eat Indian food or my name is difficult to pronounce.'
"That girl in school used to call me 'curry.' You're scared of those things. We're afraid of letting people see the glory of who we are."
Meanwhile, the 'Quantico' actress recently admitted she's "given up" her life to pursue her acting career, as she still acts in both Hollywood and in her native India.
She said: "I work very hard to do everything I'm doing. My life is split between two continents. So, I am working in the US, and I'm also producing six films in India this year.
"I am trying to balance my time between both countries, and I don't want to settle on one in particular. For me, either isn't more important than the other. Both are facets of my journey as an actor, and, more than anything, as an entertainer.
"So, I am a very proud person. Honestly, I have given up my life for my work."
Follow Emirates 24|7 on Google News.