Priyanka Chopra kisses Shah Rukh Khan as wife Gauri looks on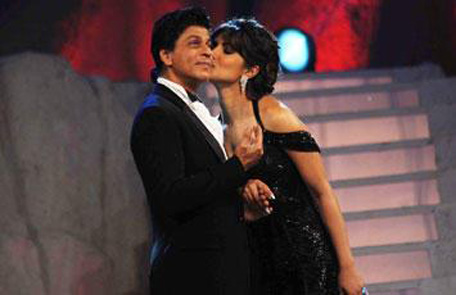 It was an action-packed evening at the 19th Annual Colors Screen Awards: The offbeat cinema in Bollywood scooped the cake and the cream. Many of our favorite Hindi film celebrities scorched the red carpet in some seriously eye-catching fashion.
But the one act that had a clean sweep and hogged all the limelight was actress Priyanka Chopra's performance along with Shah Rukh Khan.
Is that it? Hell no! Priyanka kissed Shah Rukh while they were performing on stage in front of a hundreds of spectators.
And what makes it more daring is Shah Rukh's wife Gauri Khan was right there watching the performance.
For Shah Rukh's sake let us state the fact that SRK and Gauri arrived hand-in-hand for the ceremony. So all is well between them.
But we know for the fact that Priyanka has been avoiding the Khans. At a certain Bollywood party when SRK-Gauri arrived at the venue Priyanka beat a hasty retreat despite reaching barely 15 minutes earlier.
But was she avoiding both or just Gauri? Incidentally, the very next day at another do, with no Mrs Khan around, Priyanka happily lingered on till the end.
Wondering what's the entire hullabaloo about?
Well, to cut the long story short; the alleged affair between Priyanka and SRK saw wife Gauri go ballistic. She and her circle of fiercely protective friends forbid Priyanka from all Bollywood events.
Strange rumours floated around that the actress had no job at hand and SRK was banned from working with her. Priyanka was cornered while maintaining that she and SRK are 'just good friends'.
However, latest reports suggest that SRK and Priyanka will be featured opposite each other in Farah Khan's next 'Happy New Year'.
We won't be surprised if this performance and leak about her role in 'Happy New Year' is actually staged; after all the duo are, indeed, 'great actors' [pun intended].
But as audience we do not mind any sort of entertainment on-screen or off.
The 19th Annual Colors Screen Awards
The glittering ceremony saw Bollywood's creme de la creme - in attendance.
'Paan Singh Tomar' and 'Barfi!' shared the best film title, and its lead actors - Irrfan and Ranbir Kapoor respectively, lifting the best actor's trophy at the 19th Annual Colors Screen Awards night.
Vidya Balan won her fourth consecutive best actress Screen award for her role as Vidya Bagchi in hit thriller 'Kahaani'. Her earlier wins were for 'Paa', 'Ishqiya' and 'The Dirty Picture'.
Irrfan essayed the role of former national steeplechase champion-turned-bandit Paan Singh Tomar in the biopic 'Paan Singh Tomar', while Ranbir wowed everyone with his heart-warming performance as deaf and mute Murphy in 'Barfi!'.
In terms of direction too, commercial entertainers took a backseat with Anurag Basu winning the best director award for 'Barfi!'.
Katrina Kaif won the Screen Awards in the Most Popular Actress category while Salman Khan won the same prize in the male category.
'Gangs of Wasseypur' wins the award for the Best Ensemble Cast at the 19th Colors Screen Awards. Directed by Anurag Kashyap, 'Gangs of Wasseypur' has been appreciated as international platforms as well.
The award also brought happiness for Abhishek Bachchan. He and Annu Kapoor have been declared the winners of Best Comic Actor. Big B received the special award at the 19th Screen Awards.
Megastar Amitabh Bachchan received a special award at the event, while late filmmaker Yash Chopra, who died in October 2012, was conferred the lifetime achievement award.
The evening was laced with power-packed performances by 'Student of the Year stars' Varun Dhawan, Sidharth Malhotra and Alia Bhatt, apart from livewire dances by Sonakshi Sinha, Ranveer Singh and Priyanka Chopra.
For the first time, the mother-son duo of Neetu Kapoor and Ranbir took onto the stage to pay a tribute to Bollywood.
The event was hosted by Shah Rukh, Karan Johar and Ayushmann Khurrana, who bagged the best newcomer (male) award for his performance in 'Vicky Donor'.
ALSO READ:
Golden Globes 2013 winners: Ben Affleck's 'Argo', 'Les Miz' win big
Golden Globes 2013 red carpet: Cinema, Fashion and Fun
BIGG BOSS 6 creates showbiz monster: Fans still voting for Imam Siddiqui
Follow Emirates 24|7 on Google News.