Priyanka Chopra: Respect is key to long-lasting relationship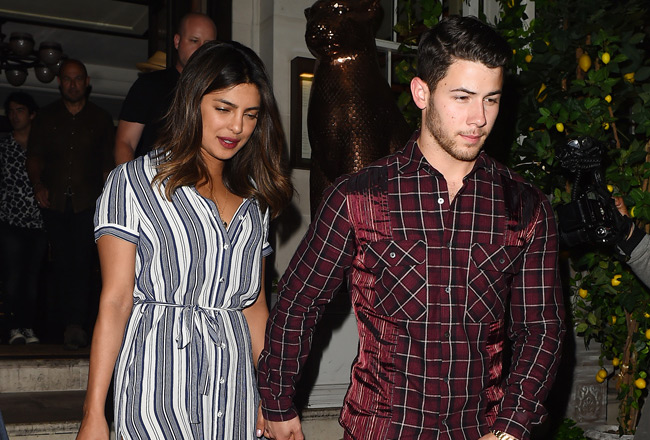 Priyanka Chopra says respect is key when it comes to being in a long-lasting relationship.
The 36-year-old actress is due to tie the knot with fiancé Nick Jonas in the coming months and has opened up about what it is about her significant other that makes him right for her.
She told PEOPLE.com: "Truly this is what worked for me, he has to be someone who respects you.
"By that, I don't mean makes coffee for you, not that.
"But someone who respects the hard work you put into your life.
"Who respects that if his work is important, so is yours.
"Or if he makes choices that are important to him, so is your opinion. That's respect, and that's incredible to have."
The 'Quantico' star - who is an investor in dating app Bumble India - advised that women should never "settle for less than that".
She concluded: "Then everything is so easy because you give each other credit for your intelligence, you give each other the benefit of the doubt because you trust each other. There's so much that comes out of that. I think don't settle for less than that."
The 'Baywatch' actress had her bridal shower at Tiffany's Blue Box Cafe in New York over the weekend, and she revealed it was like being at a nightclub at Tiffany's.
She said: "This was not a conventional shower, it was a nightclub in Tiffany.
"There was so much dancing - like five hours of dancing. It was amazing!"
Priyanka had all the "women she loves in New York" in attendance, including Hollywood stars Kelly Ripa and Lupita Nyong'o.
She added: "My bridesmaids did this whole thing with all my favourite foods and cocktails and songs and people and women that I love in New York. It was so special and wonderful.
"It was such an eclectic, fun, diverse, cool group of women that it just made me so happy."
It's significant that the shower was held at Tiffany's as Nick closed down one of their stores in the Big Apple in July, just to pick out a ring for his soon-to-be-wife.
She said: "I've always had a romantic fascination with Tiffany since I was a kid.
"It's just so chic and classy and timeless.
"So somewhere I'd mentioned it to Nick that I wanted my ring to be a Tiffany ring and I think he remembered, and hence the ring and the relationship with Tiffany. It does play a very special role."
Follow Emirates 24|7 on Google News.