Priyanka Chopra's Rolls Royce ride to Filmfare… ducks 'Shah Rukh Khan'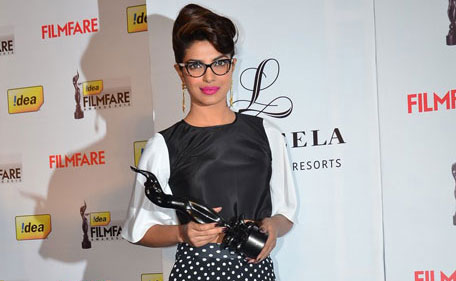 Priyanka Chopra and Ranbir Kapoor will host the 59th Filmfare awards.
As part of their anchoring, the two actors will present the future of Indian cinema in a fun way at the awards ceremony.
This is Priyanka's first stint at hosting the prestigious awards and she is feeling the pressure considering the standard set by other actors in previous editions.
Click here: Red carpet moments at Golden Globes award
Q: There has been a legacy of Shah Rukh Khan and Saif Ali Khan hosting Filmfare awards. Do you feel the pressure after taking on the kind of humour and the Filmfare awards forward?

I will leave the humour to my co-anchor Ranbir Kapoor because he is a boy. But yes there is a huge pressure. Yeah, it's scary and exciting, but if one does not make an effort, then why are we here?

Q: Who is your favourite host at Filmfare?

I will not say anything now. Let me host the show first and then I shall tell you who my favourite is.

Q: Do you think you would have more fun co-hosting with Shah Rukh Khan?

I can host the show with anyone. It is my job and I have not done much hosting before in life. But then yes, I think I will be happy doing this with Ranbir this year.

Q: You were late for the event as well today. Are you trying to overtake the superstars like SRK who is always late?

I have come late earlier as well and I have been on time earlier as well for other events. It all depends on my mood. I apologise for being late, but then this time I was stuck because of my shooting and it is not because I am a superstar or something.

Q: Which actress in Bollywood will you want to host the show with?

I think I want to shot the show with Vidya Balan, if given a chance. I think she is really spontaneous and she is lot of fun as well. She would be a really cool co-host, I reckon.

Q: Who will you vote for the best actress at Filmfare this year?

My vote will go to Deepika Padukone. She has had a great year. I am pretty friendly with her as I am with Vidya or Bebo.

Q: You are buying a Rolls Royce…who are you taking for a spin first?

Let it come. I will bring it to the Filmfare awards first. I have done a few cool things to it and I would certainly want to take my mother for a ride first.

Q: Any Bollywood actor or actress you would like to take a drive with?

There are very few people who are worth that.
Q: The Kapoor dynasty has ruled Bollywood for 80 years. Do you think that it is time for the Chopras to rule?

You seem to have forgotten other Chopras like BR Chopra and Yash Chopra. They have been pretty big, too. We are just taking the legacy ahead. If you look at it, all Chopras would be related to each other somehow.
Follow Emirates 24|7 on Google News.