Priyanka Chopra spends Fourth of July with Nick Jonas' family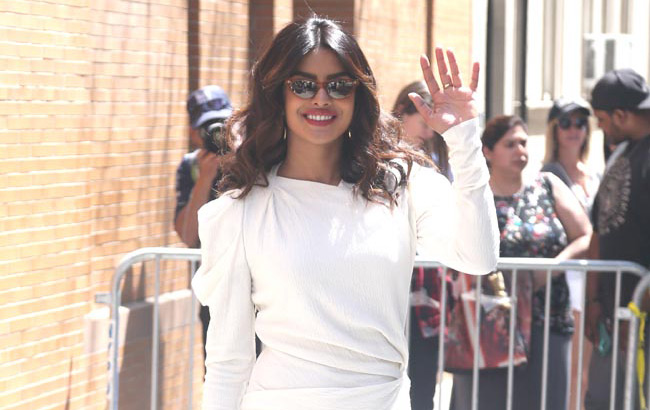 Priyanka Chopra spent Fourth of July with her boyfriend Nick Jonas and his family in New York City.
The 35-year-old actress is said to be dating the 'Jealous' hitmaker and it looks like she's had no problems settling into his tight-knit family as she arranged a bike ride with her beau, his brother Joe Jonas and his fiancée Sophie Turner on the Upper West Side of the city on Independence Day earlier this week.
A source told E! News: "Joe and Sophie rode faster with a pack of friends, while Nick and Priyanka were in the back. They seemed very touchy feely."
The brunette beauty then joined Nick's whole family - including his brother Kevin Jonas, sister-in-law Danielle Jonas, and nieces Alena and Valentina - in the evening on a private roof terrace to watch the fireworks.
This isn't the first time the 'Quantico' actress has been involved in Nick's family celebrations as she was also invited to his cousin's wedding in New Jersey last month.
An insider explained: "It's a huge deal that Nick brought Priyanka to his cousin's wedding. He's dated a lot over the last couple years but it's never been anything serious, so this is a big step. Nick and Priyanka really like each other, and his family enjoyed getting to know her as well. She fit right in!"
Although things seem to be heating up between her and the 25-year-old singer, Priyanka still doesn't seem keen on getting married in the future.
She said recently: "Because I'm in my 30s, which is obviously over the hill, my mother said to me: 'You'll get married the day you find someone who appreciates how hard you worked to get where you are.' Think about it. All the fairytales we've always read, end when the princess gets married. Why is there no story beyond that? That's the end of her life! After she gets married, what happens?"
Follow Emirates 24|7 on Google News.