Priyanka Chopra trumps Donald Trump - only by eating chicken wings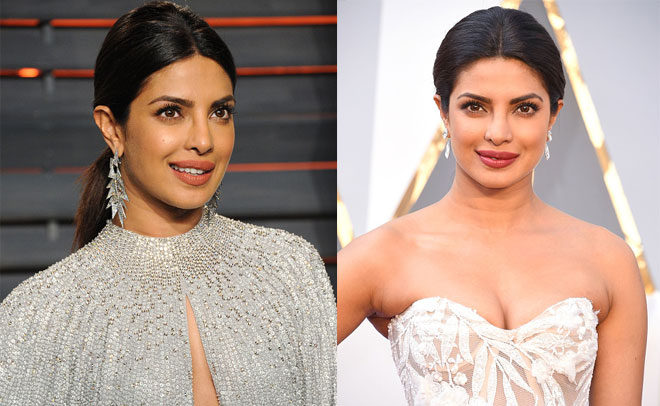 International film star Priyanka Chopra, who has conquered Bollywood, is now taking Hollywood (and social media) by storm.
The 'Baywatch' babe has been trending at no 1 on Facebook in US and she defeated the likes of Donald Trump and OJ Simpson for the last couple of days.
And guess what she had to do? She just had to eat atomic chicken wings with nuclear sauce.
She defeated Jimmy Fallon in another one of his ridiculous games on 'The Tonight Show'.
Fallon is competitive, even if he is the host of the show, but Chopra tackled his challenge like a veteran exceling in eating super-spicy hot wings.
As she gobbled down three of those mouthful pieces in 20 seconds, Fallon couldn't get past one wing.
Screen grab
Priyanka has never shied away from admitting her love for food. Perhaps Fallon underestimated the super sexy and toned girl to beat him in an eating contest.
Chopra is no stranger to competitions, having won Miss India and Miss World before she even entered college.
The actress has gained considerable amount of international fame with her lead role in TV series 'Quantico'.
Meanwhile, it is her shooting commitments that are keeping her busy in the US.
AFP
Entertainment website E!, calls her 'one of Hollywood's fastest rising starlets (and Bollywood's biggest exports)'.
The actress is jet-setting an awful lot these days. After she won the Oscar red carpet and "jumping right to the Vanity Fair party," she headed to the airport in her glimmering gown.
Chopra jetted off to Miami to begin shooting her big screen debut opposite Dwayne Johnson.
She has been roped in to play a negative role in 'Baywatch'.
In between scenes, Chopra did Skype interviews with press in India for her new movie 'Jai Gangaajal' (in theaters now).
The actress took to Instagram Wednesday, announcing that she had temporarily wrapped shooting for 'Baywatch'.
Chopra then travelled to New York City to fight it out with Jimmy Fallon on The Tonight Show Thursday.
And on Friday, she popped by Live! With Kelly & Michael to promote 'Quantico'.
The rising star of Hollywood had a whirlwind week covering 5 cities in 7 days as she took her flight to Montreal, heading straight to set to shoot 'Quantico'.
Follow Emirates 24|7 on Google News.