Rachel Weisz: My daughter looks just like her dad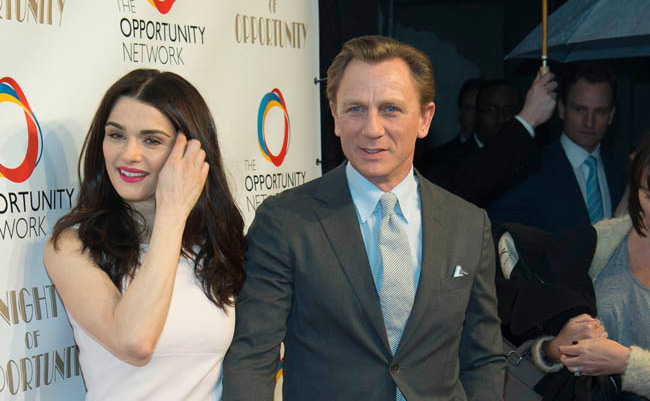 Rachel Weisz says her daughter looks "very like" her father Daniel Craig, and takes after the James Bond star more than herself.
The 48-year-old actress and the James Bond star welcomed a baby girl in September this year, and although they couple are remaining largely private about the tot, Rachel has admitted she bears a striking resemblance to Daniel.
She said: "She does look very like him. She really does."
Although the 'Constantine' actress - who already has 12-year-old son Henry with her former partner Darren Aronofsky - splits her time between America and her native UK, she says she isn't worried about whether her child will be American or British, because she's just focusing on raising her as "human".
When asked by talk show host Stephen Colbert on his eponymously titled show if she would be raising her child to be American or British, she said: "Just human. I'm really into humans, just from planet earth."
Rachel and Daniel - who has 25-year-old Ella from his first marriage to Fiona Loudon - waited until their daughter was born to find out the sex of their child, and previously admitted they had to be "unisex" clothes during Rachel's pregnancy.
The 'Favourite' actress said: "We're having to buy all the gear again, although friends have lent us some great unisex baby-gros - we don't know what the sex is."
And Rachel admitted her second pregnancy felt different to her first.
Asked if it felt different, the 'Disobedience' star said: "Yeah, I suppose it does. You know, your first baby is just so unknown isn't it? You just don't know what it's going to feel like being in labor or what it will be like. So, of course, it's different, but special. In a different way."
The couple - who married in 2011 - previously said they are delighted to be parents again.
Rachel said: "We're just very excited. Very, very excited. Because it is a miracle. It's pretty extraordinary, the stuff that happens to your body, and then watching that child grow."
Follow Emirates 24|7 on Google News.