Raj Kapoor's ancestral home, Kapoor Haveli, demolished in Pakistan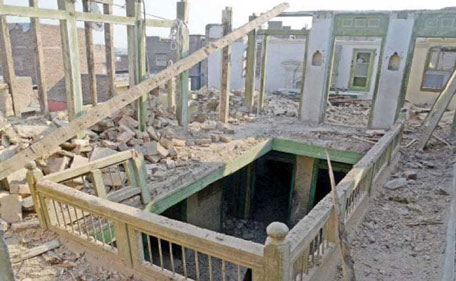 Reports about 98-year-old historic Kapoor Haveli (mansion), birth place of cinema legend Raj Kapoor, being demolished has shocked the civil society and heritage lovers of Peshawar.
The birthplace of Bollywood legend Raj Kapoor has been partially demolished by its owner in Peshawar in Pakistan, reported Dawn on January 17.
Officials of the archaeology directorate said that they made an eleventh-hour attempt on January 16 to save the historic building located in Dhaki Munawar Shah area of the walled city but failed.
By then, however, the top floor of the 98-year-old four-storey Kapoor Haveli was pulled down.
Dawn also reported that the rest of the building was badly damaged.
The historic haveli was constructed in 1918 by Dewan Basheshwarnath Kapoor, father of movie legend of the 1930s Prithviraj Kapoor and grandfather of Raj Kapoor.
However, Raj Kapoor's son Rishi Kapoor was fine with the provincial government's decision.
A Twitter follower Bilal Aqeel wrote to Rishi: "@chintskap Attempt to demolish Kapoor Haveli in Peshawer thwarted by masses. Ppl of Pak love u n ur family."
But the actor responded saying: "Thank you for your gesture but that property belongs to the Pakistani Govt.and it is entirely up to them to decide."
The Khyber Pakhtunkhwa government had earlier declared the houses of Peshawar-born Bollywood actors Raj Kapoor and Dilip Kumar as heritage to protect and preserve them.
The officials told Dawn that they learned about the demolition of the house on Saturday morning and sought police help to halt the razing.
The haveli, located in Dhakki Munawwar Shah, near Qissa Khwani, originally had six storeys with several rooms.
Its facade displays exquisite floral motifs and 'jharokas'(type of overhanging enclosed balcony). The top three storeys were demolished two decades ago, while the remaining structure is being pulled down incrementally to escape action by government departments.
The roof of the haveli was pulled down on Thursday, thus exposing it to potential damage during rainy season.
The government wanted to turn it into a museum but couldn't since the present owners did not agree to a price.
Born on December 14, 1924, Raj Kapoor began to act at the age of 10 and became one of the best known actors, producers and directors, enjoying global audiences, particularly in Asia and Europe.
Follow Emirates 24|7 on Google News.