Ranbir Kapoor, Deepika spin their magic on 'Tamasha' [videos]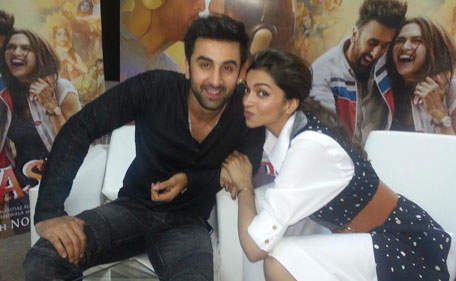 It's not easy being Ranbir Kapoor and Deepika Padukone, not when they have a movie releasing just around the corner, and they are made to travel, meet the media (and fans) and constantly talk about their movie.
So, when Emirates24|7 travelled to Mumbai to meet the stars at Mumbai's iconic Mehboob Studios, we expected them to be exhausted with the promotional circus. But, not them. Deepika and Ranbir, amid back-to-back interviews and promotional shoots, sat pretty and tackled every question with renewed vigor and honesty.
Here's how we rolled after the traditional 'Lights. Camera (audio recorder). Action.'
Video: Sneha May Francis
Emirates 24|7 (E24|7): What's the fun thing about Imtiaz Ali's 'Tamasha'?
Deepika Padukone (DP): Off-screen, the fun would be the fact that I got to work with Ranbir and Imtiaz. Beyond work, I share a lot of comfort with them. A lot of care and protective of each other. So, I think just to be working in a nice, friendly, familiar, happy environment… where you are shooting a film but it's seamless. Also, there's a life beyond the… after the shoot, we are all eating, or watching a match together. Or, even when we are reading or preparing for the next day, it's fun. It's not always serious. And, in the movie, it's all the travel and the great food we've eaten. Again, one of the common things about all three of us is that we are extremely passionate about food.
E24|7: It doesn't look like that!
DP: That's true. Strangely, we are all rather skinny people, but we eat a lot. Food is a very, very important (factor). So, we are kind of going to places to promote the film where ever we get good food.
E24|7: Then, you should have come to Dubai.
Ranbir Kapoor (RK): But, we wanted you guys to come here.
DP: But, they said you were bringing us food.
RK: But, to add to what Deepika is saying, apart from the off-set and on-set fun, Deepika and I got challenging parts to play. It was uncharted territory for both of us. And, it didn't have a reference point to what we were doing. So, in that sense it was very new. Even working with Imitiaz… the late-night sessions, readings at the hotel before going to shoot, and sleep for just five hours a day… was actually a lot of fun. It was something where we went back to basics with Imtiaz, and that's what we really liked. He had just cut off the preconceived notions of acting, and whatever expressions, or certain interpretation we've had, he'd like to take that away, and give us a fresh approach to our work.
Video: Sneha May Francis
E24|7: Ranbir, what was the one scene that was the most difficult to shoot?
DP: We are one-take artists!
E24|7: Talk about modesty (amidst laughter).
DP: In my head (laughing), I'm a one-take artist.
E24|7: Which is good.
DP: Ya, because I don't like to succumb to pressure. So, I don't want to know like I took 25 takes to get this one short right. In my head, it was a technical issue, and nothing to do with me. It was the camera, or the focus (grins). You can't perform under pressure ya… come on!
RK: But, there's a song 'Agar Tum Saath Na Ho', which is a very emotionally draining song. And, songs take a while to shoot, because it's her access, my access, wide shot, big shot, extreme wide shot. And we did that a lot because Deepika as an actor is someone who does not discount her emotion, she wants to go the entire journey of where it started and where it ends. So that really took us a while to shoot. And when we ended, we were really exhausted. And, it felt like we had expended ourselves.
E24|7: That's intense. Moving on, what's the one thing about Ved (RK's onscreen image) you like, one thing you dislike. And, the same for Tara (DP's onscreen image).
RK: So, I'll tell you what I like about Tara. She's the under-hero who proves the heroism of Ved. She's the root. She actually sacrifices herself so that another person shines. It actually goes back to Krishnan and Radha (of the Hindu mythology), which Imtiaz is very inspired by. So, Radha had to sacrifice because Krishna was the chosen one. And, what I don't like about Tara is… it's a film character, so it's all very exaggerated and stuff, but Imitaz factors in a lot of grey shades also. So, what he (Ved) doesn't like is that Tara is very honest. She reflects the immediate truth, which actually is very hard. And, you have to go through a big metamorphosis to actually prove herself right.
DP: I think what Tara likes about Ved is the fact that she is a better person when she's with him. Makes sense? (To RK)
RK: Nods.
DP: Erm. And, one thing she doesn't like about Ved is the fact that he changes as a person. He loses his path.
RK: Loses his mojo (laughs)
DP: That's like a serious answer… I thought more 'on the surface' type answer.
RK: You don't like his goatee?
DP: I don't like the haircut Ved has in Crosica. (laughs). And, he doesn't like the lips on her shirt.
RK: And, those lips were stitched on, right? It was not there, right?
E24|7: Now, we are going random! (All burst out laughing). Back to 'Tamasha'… it's about a guy who steps out of his ordinary life to be someone else. So, if you guys were given the choice to travel somewhere and lose yourself, where would it be and why?
RK: Corsica. I think because the place…
DP: You can't copy my answer. You say Japan and I'll say Corsica.
E24|7: Is this on auto-mode. Were you asked this before?
RK: No! She just wanted to say Corsica. So, go ahead (looks at Deepika).
DP: I enjoyed Corsica more. And, he enjoyed Japan more, so he'll say Japan.
RK: Also, because when we get time off we go to places like London or New York, or Maldives… you know! Places which are more holiday-like. You won't choose a place like Corsica. Of all places. We get to go to these places, to see their culture… their food. And, Imtiaz…
DP: Let's be honest, we didn't know a place like Corsica existed until we actually went there.
RK: And, Japan because I would never have thought I would shoot a film there. We went out one night to Karaoke pads. It was so much fun.
E24|7: What's the one question that you've been prepping for, but no journalist has asked you so far?
RK: To be honest, we've kept it quite free-flowing. And, even if the question is about how is Mickey Mouse doing, we bring it back to Tara and Ved. So, we are quite professionals that way, and we know how to manipulate the questions.
UTV Motion Pictures & Nadiadwala Grandson Entertainment Pvt. Ltd. present 'Tamasha'. Produced by Sajid Nadiadwala, the movie hits Dubai theatres on November 26
Follow Emirates 24|7 on Google News.