Ranbir Kapoor's obsession... no, not Katrina Kaif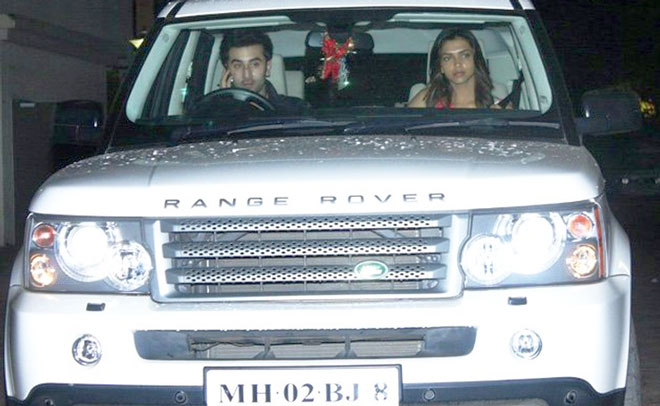 Boys and their love for hot wheels!
The Bollywood boys have one thing in common — a shared love for the glitziest wheels. Be it Ranbir Kapoor, John Abraham, Shahid Kapoor, or Imran Khan, the boys surely enjoy taking their supercars out for a ride late at night.
While Imran Khan says going on a drive acts as a 'stress-buster', for John Abraham it is a way to spend alone time in an otherwise cramped city where they would be recognised at every red light.
Sanskriti Media and Entertainment
Now Ranbir has found new love in his life post breakup with Katrina Kaif and this time, it's not a girl but a brand new car.
The Kapoor lad was clicked with his brand new blue Ranger Rover MH02DQ8.
Sanskriti Media and Entertainment
Heartbroken post break-up, Ranbir is finding solace in his latest possession.
His close friends know his love for four wheels and the 'Tamasha' actor has some amazing collection of them. Apart from this brand new Range Rover, Ranbir owns a white color Audi A8 with number plate MH02CP800.
Ranbir even owns a red color Audi R 8 and a prestigious Range Rover in his car collection.
Sanskriti Media and Entertainment
Apart from these 4 cars, he even owns a Mercedes- Benz G63 MH02CZ8.
While Ranbir Kapoor has an impressive line-up of cars in his collection, we couldn't help but notice his fascination for No.8.
Sanskriti Media and Entertainment
All his car numbers plates have no 8 in them. We wonder if he considers 8 as his lucky number.
In an earlier interview he had said, "I love driving... That's the only time I get by myself and I enjoy going on long drives around the place."
Well, looks like Ranbir has found true love of his life in these hot wheels.
Sanskriti Media and Entertainment
Follow Emirates 24|7 on Google News.