Ranbir Kapoor talks about engagement rumours with Katrina Kaif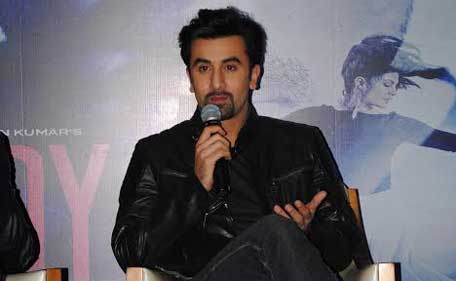 Whether he likes it or not actor Ranbir Kapoor is always in news - sadly more for his love affair with actress Katrina Kaif than his work.
Yes, Ranbir's personal life has over-shadowed his professional life.
And now the actor says that he wants to hide his personal life and not make his personal space a reality show that people are making it out to be.
He is yet to realise that the more he tries to hide from public eye the more it intrigues the paparazzi and his fans.
Ranbir broke his silence on the many reports of his engagement to Katrina Kaif and their marriage plans.
The actor cleared all rumours of his engagement to Katrina in an interview to a leading Indian daily.
He rubbished all such reports and clearly stated that one cannot hide an engagement and when it does happen for him, he will declare it to the world himself.
Ranbir also made a strong point on how he wished that the media and the tabloids would stop making assumptions about his life as it leads to spoiling the events when they do actually take place.
In an interview to Times of India Ranbir said, "I don't want to sound like a cry baby, but audiences are making strong perceptions about you based on what they read and unfortunately, that's not about your work. So, it's a catch 22. But, I do hope my work speaks 10,000 times more than a factually incorrect article written about me."
Year 2014 saw Ranbir missing in action as far as movies are concerned but hogging gossip columns - thanks to all the dodging and running away from paparazzi.
Maybe talking openly about his romance with ladylove Katrina will lessen his misery and give him the privacy he wants so badly.
Also see: Movie Listings in UAE
Follow Emirates 24|7 on Google News.