Ranveer trashes media linking him with Deepika's depression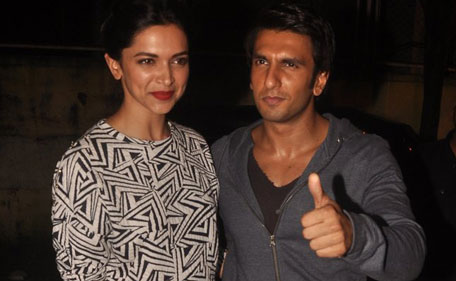 Bollywood actor Ranveer Singh is a man who doesn't mince words.
Following news reports that found their way on social media, the Bollywood actor issued a cutting statement, denying allegations that he too was suffering from depression, calling the stories a 'fairy tale'.
The 'Kill Dil' actor also defended the actions of Deepika Padukone, who publically confessed in January that she had been seeking medical treatment for depression, but called linking his fabricated report to his alleged girlfriend's actual condition 'deplorable'.
On Monday, several news media in India carried reports the 29-year-old was clinically depressed and it was this condition that helped him build a relationship with his on- and off-screen pair, Padukone.
The bond was strengthened, the story stated, when Singh learned a close friend of his committed suicide and he wasn't able to recognise the signs until it was too late; the story also quoted a therapist of the stars revealing the same.
In a statement that Singh posted on his official Facebook account on Tuesday morning, the actor refuted the story, saying: "Talk about Monday morning blues. Picked up yesterday's paper and read this 'fairy tale' of my depression about an intensely personal tragedy.
"Much worse, it was shamelessly aligned with another person's conflict and both these unrelated stories were made to connect for a sensational effect; deplorable to say the least."
The statement continues: "Figment of one's imagination now taken to another level, in which there's a dramatic twist about a therapist too! Ludicrous!"
The actor accused the journalist who wrote the story, stating the hack "didn't bother to check the veracity of this 'news' with me or any one of my representatives. Appallingly unethical."
Calling this sort of journalism irresponsible, Singh called for accountability, adding: "Or is the power of the pen now the terror of the pen?"
The story comes close on the heels of a report printed in Hindustan Times last month, where 29-year-old Padukone confessed most of her shoot for 'Happy New Year', which was largely filmed in Dubai, was a time when she was struggling with her medical condition.
She said in the report: "Every morning, it was a struggle to wake up, and shoot for 'Happy New Year's' climax... Most of 'HNY' was shot through this phase."
Padukone revealed that after she broke down in front of her mother, she was asked by Ujjala Padukone to speak with a psychologist friend "who concluded that I was suffering from anxiety and depression."
The actor further states she took a two-month break from filming to recover with her family by her side, who even holidayed in the Maldives last month, with Singh by her side.
She is quoted further as saying: "When I returned to Mumbai, I heard about a friend committing suicide due to anxiety and depression. It was a huge blow.
"My personal experience, as well as my friend's death urged me to take up this issue, which isn't usually talked about. There is shame and stigma attached to talking about depression. In fact, one in every four people suffer from anxiety and depression."
Padukone revealed in December that she wants to dedicate this year to creating more awareness about mental health issues.
Also see: Movie Listings in UAE
Follow Emirates 24|7 on Google News.