Rekha effect: Amitabh and Jaya Bachchan's PDA moment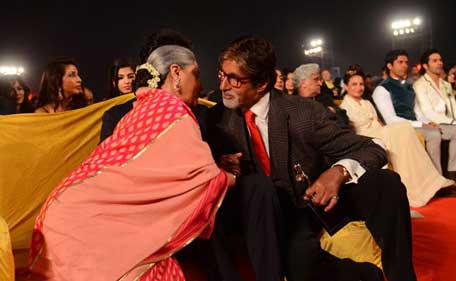 There is no denying the love Amitabh Bachchan has for his wife Jaya Bachchan.
But just in case there was ever any doubt, their public display of affection at an award function in Mumbai would be enough to make even the coldest hearts melt.
Bollywood's Bachchan family is always in the limelight but they love their privacy.
Media is entertained only when they feel the need to. But in a rare display of affection, Amitabh Bachchan and wife Jaya Bachchan kissed publicly.
The show of affection took place at the Screen awards in Mumbai where Amitabh Bachchan was felicitated with a Lifetime achievement award.
After Big B (as fans call Bachchan Sr) received the award, he walked back to his family seated on the front row followed by hundreds of photographers.
As the cameras were trained on them, jubilant wife Jaya congratulated her husband with a warm smooch.
While Big B and Jaya were sharing their private moment, son Abhishek Bachchan welcomed the sight seated in the middle. Daughter-in-law Aishwarya Rai Bachchan was not as lucky as she skipped the function.
The lensmen had a field day when they clicked Big B 'smooching' wife Jaya.
The couple sealed their love publicly which was once threatned by Rekha, who was seated couple of seats away.
(SANSKRITI MEDIA AND ENTERTAINMENT)
By the way, Amitabh Bachchan did make a pitstop after receiving the award and before taking his seat with his family.
Bachchan Sr greeted rumoured ex-lover Rekha in public, thus lifting the cold vortex between them after almost 33 years.

The megastar greeted the beaming Rekha with a namaste (folded hands) and a smile after he walked down the stage.

The usual snub and public indifference from Mr Bachchan was missing. The Umrao Jaan actress acknowledged the gesture.
(SANSKRITI MEDIA AND ENTERTAINMENT)
Even the fearsome and vocal Mrs Bachchan greeted her one-time rival. Pictures from the event stand as testimony of this day for posterity.

Jaya Bachchan was photographed clasping Rekha's hand, greeting her and sharing a laugh.

What's this PDA and public greeting with Rekha all about?
Rekha and Sr Bachchan never worked together or acknowledged each other's presence in public after their movie 'Silsila' in 1981.
Is this a begining of a new chapter of friendship between the Bachchans and Rekha?
Or is there a movie announcement in the pipeline?
There have been reports of Amitabh Bachchan and Rekhka making a comeback in movies but that never materialised.
Their cordial greetings at the Screen Awards give us hope to see the two actors back on screen.
Follow Emirates 24|7 on Google News.