Rising star: Pakistani singer Abdullah Javed's soulful music wins hearts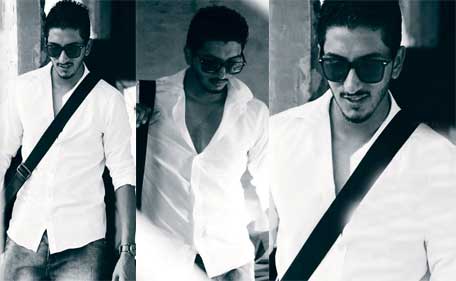 After performing random cover songs of different artists and singers for years, budding Pakistani singer Abdullah Javed finally summoned courage to compose his own music.
Jamming with friends and penning down his thoughts, 25 year old Abdullah Javed finally came up with the soulful rendition 'Ghar Ajja'.
Listening to Abdullah's first single, K Malik from Pakistan beamingly says, "This singer is really good, if this is his first song I must say he will be a star one day."
It all started when he was in school and performing on stage came naturally to Abdullah.
Along with books, guitar became an integral part of his studies. He developed keen interest and started performing live during events and annual gatherings in Lahore.
Born in Doha (Qatar), he completed his education in Pakistan but moving back to Doha marked a new beginning for the singer.
With three sisters in the household, Abdullah was the pampered brother. The family stood by him as he pursued his talent.
Speaking to Emirates 24|7, the 'Ghar Ajja' singer says, "My family and friends are my biggest support, I started off with nothing concrete but continued jamming with friends and planning the future course of action."
Abdullah says, "I want to perform all over the world and in the Gulf region making a name for my country and help them feel the soul of our music."
The breakthrough came when he was offered to perform 'live' in Doha for the Indian Culture Centre.
It added fillip to his spirit as an artist to test his boundaries. "This performance and the encouragement from the crowd made me realize that I can do it on my own and can live my dream".
He started writing the lyrics and composing music for his song in 2010, in the meantime continued performing live in hotels and concerts in Doha.
His first single has generated immense response from fans on social networking sites and local media. 'Ghar Ajja' is a mash-up of three songs which was recorded in PAK Media Revolution.
Recently, Abdullah performed during Basant Mela in Doha and fans were on their feet cheering the budding singer throughout his performance.
Swaying to the tunes of 'Ghar Ajja' Dr T Masood says, "Such a lovely voice and we are having a great time here, he is doing an excellent work... Keep it up".
Abdullah continues writing lyrics for different artists but his focus is now to launch his maiden album.
As he is set to take up greater challenges, Abdullah is hopeful, "I am putting all my efforts to make my album a great success and like "Ghar Ajja" I hope my hard work is appreciated."
Follow Emirates 24|7 on Google News.