Rivals Salman Khan, Shah Rukh Khan hug, laugh & share a joke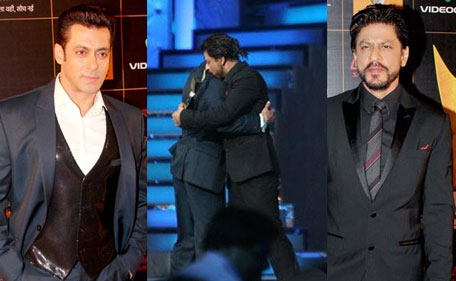 Sometimes it's difficult to know if there is a raging ember burning hot beneath cold ash.

The warring Khans of Bollywood - Salman Khan and Shah Rukh Khan is no less deceptive in their act of rivalry and friendship.
Click here to see the Salman-SRK hug drama

After their much-talked about hug at an iftaar party last year see saw a repeat performance at the Star Guild Awards.

As Shah Rukh went on-stage to receive his Entertainer of the Year prize, he and award host Salman Khan shared a hug, watched by a thrilled audience.

Well, appearances can be deceptive!
(SANSKRITI MEDIA AND ENTERTAINMENT)

During the Award night Salman was in a mood to continue his banter with once close friend SRK.

Shah Rukh, who was sitting in the crowd, was first stumped when Salman addressed him and asked "Shah Rukh, kya ho raha hai (what's happening)?"

The audience loved it and Salman received thunderous response from the crowd.

But the 'Jai Ho' actor not only greeted but congratulated his arch rival on the mega success of his film 'Chennai Express'.

King Khan acknowledged this with a hand gesture - surprise and confusion visible on his face.

Very cheekily Salman asked Shah Rukh to say 'Jai Ho' thus promoting his movie.

But Shah Rukh is no Aamir Khan who is promoting 'Jai Ho' very ardently and answered Salman's request with a friendly hand gesture in agreement to Salman's demand.

Well that's not the end of the story.
(SANSKRITI MEDIA AND ENTERTAINMENT)

Shah Rukh won the Best Entertainer of the Year award and on receiving the award, hugged Salman.

SRK then said, "It feels special to get the award in the company of Salman, one of the greatest entertainers the country has ever seen."
These actors are too good (no pun intended).
SRK and Salman have conducted a very public feud for six years, ever since they had an argument at actress Katrina Kaif's birthday party in the year 2008.

Despite last year's hug at Mumbai politician Baba Siddique's iftaar party, no real thaw was apparent between the Khans with Salman declaring on TV show 'Koffee With Karan' that he and SRK would never be friends again.

Few weeks ago the two tried their best to avoid each other while shooting in the same studio in Mumbai.

We do not think this 'hug series' is going to change the status quo but we don't mind catching a glimpse of these two superstars being cordial even for the cameras.
Follow Emirates 24|7 on Google News.