SAG Awards menu is months in the making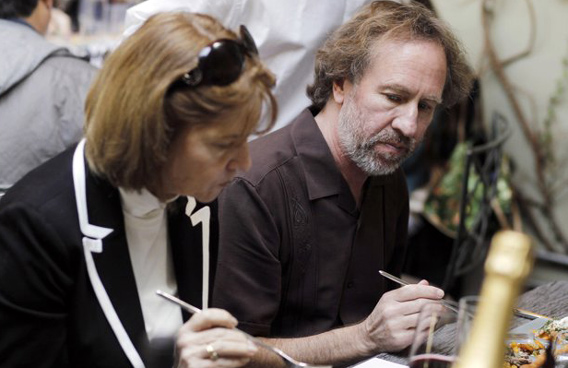 When your dinner party guests include Brad Pitt, George Clooney, Kate Winslet and Glenn Close, and the whole affair is televised live, it can take months to plan the menu. That's why the team behind the Screen Actors Guild Awards began putting together the plate for Sunday's ceremony months ago.

It was still summer when show producer Kathy Connell and executive producer and director Jeff Margolis first sat down with chef Suzanne Goins of Los Angeles eatery Lucques with a tall order: Create a meal that is delicious at room temperature, looks beautiful on TV, is easy to eat and appeals to Hollywood tastes. Oh, and no poppy seeds, soups, spicy dishes, or piles of onions or garlic.

"It can't drip, stick in their teeth or be too heavy," Connell said. "We have to appease all palates."

The chef put together a plate of possibilities: Slow-roasted salmon with yellow beets, lamb with cous cous and spiced cauliflower and roasted root vegetables with quinoa. There was also a chopped chicken salad and another chicken dish with black beans.

To ensure the dishes are both tasty and TV-ready, Connell and Margolis, along with the SAG Awards Committee and the show's florist and art director, dined together at this summertime lunch on tables set to replicate those that will be in the Shrine Exposition Center during the ceremony. The pewter, crushed-silk tablecloths and white lilies you'll see on TV Sunday were also chosen months ago.

The diners discussed the look of the plate, the size of the portions and the vegetarian possibilities.

"We'd like the portions a little larger," Connell told the chef.

"And a little more sauce on the salmon," Margolis added.

Come Sunday, it's up to Goins to prepare 1,200 of the long-planned meals for the A-list audience.
Follow Emirates 24|7 on Google News.