Salman Khan, Armaan bat for star power for Celebrity Cricket in Dubai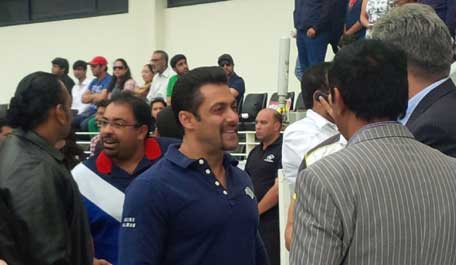 It was a gathering that could have won the title as the 'League of Ordinary Gentleman', with the marmite of Indian cinema descending onto Dubai to battle it out under the guise of Celebrity Cricket League.
Acquired taste aside, it was a day when the popular Mumbai Heroes bowed down to the might of Telugu Warriors, while the Veer Marathi finally admitted defeat to the capable batting power of the Kerala Strikers.
Tanisha Mukherjee and Armaan Kohli catching up with Salman.
Director Apoorva Lakhia rose up to the challenge when his team's batting order collapsed in the first two overs itself, with Mumbai Heroes down by five wickets; his efforts also won him the man of the match, but not enough to save his team from collapsing in a heap at 127 runs.
Actor Bobby Deol, whose step sister Ahana Deol is in the midst of getting hitched in Mumbai, attempted to prove his mettle at bowling, but the Venkatesh-led Telugu Warriors were simply better vetted in all aspects.
Meanwhile, the second match of the day saw a not-so-pleased Riteish Deshmukh show his frustration when his Veer Marathi were struck down hard by the Kerala Strikers, managing only 124 runs at the loss of nine wickets.
Even with mascot Genelia D'souza practically on the pitch, waving her team flag and a smile, the act wasn't able to improve the Veer's bowling enough to take down the Keralities.
Dugout gossip
Celebrities at the Dugout
While the celebrity matches were unfolding on the pitch at the Dubai International Cricket Stadium yesterday, all cameras were focused on the dugout where star glamour was being shared by the likes of Huma Qureshi, Chitraganda Singh, Sunny Leone, Tanisha Mukherjee, Shruti Hassan, Genelia and the likes.
Shruti Hassan
Tanisha was stuck by the side of rumoured boyfriend Armaan Kohli, even refusing to speak to media if questioned on anything but the match at hand; so much may have been her hesitation that she only stepped out of the VIP box when her beau whispered that Bigg Boss buddy and superstar Salman Khan had arrived on the scene.
Huma Qureshi.
As the trio caught up to share a few laughs, Huma and Chitraganda continued to fulfil their roles as cheerleaders for Mumbai Heroes.
Speaking to Emirates 24|7, Huma said: "Yes, our team is being beaten here, but the vibe at the stadium is electrifying."
She continued: "I am not the biggest fan of cricket, but yes, I do love Sachin Tendulkar; he's my favourite player."
When prompted that he has retired from all forms of cricket, Huma added: "No, no he's still my favourite."
The 'Dedh Ishqiya' star also gushed over the success of her film and took time out to shout out a 'woohoo' to team UAE for qualifying for the ICC World Cup next year.
In fact, Chitraganda, who also picked Sachin as her favourite player, said: "This is an amazing time for the UAE, I'm sure. We need more cricketing nations to play on an international level."
Sohail Khan
Shruti and Zayed Khan also pledged their support to the UAE national team for next year, with the latter actor also breaking the news that his many fans will be excited to know that he has not one, but two films releasing this year.
Sunny Leone, who was floating around in the colours of Telugu Warriors, with husband Daniel Weber by her side, was honest enough to admit that she was clueless to the world of cricket, despite supporting CCL.
"I know nothing about this game, but I am open to learning," she laughed. "I was given a crash course at the last CCL match and I have just been informed we have won. This is awesome."
Zayed Khan
The riveting sound bites by the star power, however, paled to the showstopping presence of Salman Khan, who was surrounded by an army of bodyguards that were led by his trusty Shera.
However, Salman's presence also rubbed a few up the wrong way, with this journo overhearing a certain actress complaining about another present, who was trying very hard to toss her hair in the superstar's direction.
Of course, the actor in question was too busy greeting his friends to even notice any wayward female attention flung in his path.
Also making their presence felt at yesterday's event were Sanjay Kapoor, Sonu Sood, Varun Badola, Sachin Joshi and the likes.
(All pics: Bindu Suresh Rai)
Follow Emirates 24|7 on Google News.