Salman Khan, Bipasha, Kangana & the Mumbai Heroes set to score high in Dubai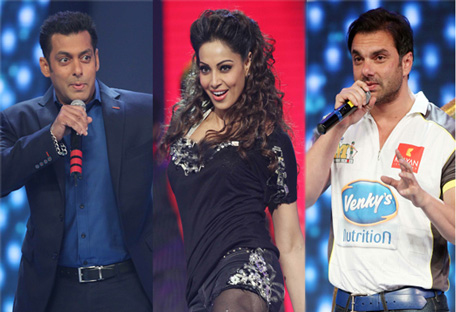 Celebrity Cricket League is back in the UAE and it promises to be bigger, better and full of exciting additions.
Indian film fraternity from different industries will jet in to Emirates on February 23, 2013 as they set a date for the international leg of CCL Season-3.
(Supplied)
Two back-to-back Twenty20 bouts will be played at the Dubai International Stadium, Dubai Sports City.
Matches will be played between Mumbai Heroes & Chennai Rhinos and Kerala Strikers play Bengal Tigers which promises to be a mix of sports and entertainment.
(Supplied)
The curtain raiser event of the third season was hosted by Ritesh Deshmukh and Ayushman Khurana. The star studded event also featured performances by Salman Khan, Katrina Kaif and Bipasha Basu.
The event was attended by the stalwarts of the eight different film industries, along with sports celebs including cricketer Sanath jaysurya and Chitrangdha Singh who tested their knowledge on Indian cinema while Bipasha Basu made Andrew Symonds dance to her tunes.
(Supplied)
The event presented the captains of all the eight teams including Venkatesh, Mohanlal, Vishal, Suniel Shetty, Ritesh Deshmukh, Manoj Tiwari, Jeet and Sudeep.
The third season features two new teams and begins on the 9th of Feb with the first match in Kochi.
The other celebs present at the event were Sohail Khan, Kangana Ranaut, Boney Kapoor, Sri Devi, Shruti Haasan, Rana and Ram Charan Tej who was also announced as the icon player for the Telugu Warriors.
(Supplied)
CCL's UAE leg held its first international match at the Sharjah Cricket Stadium during its second season in 2012 where fans witnessed Mumbai Heroes take on Telugu Warriors and Chennai Rhinos in two very closely matched bouts.
"It is the second time CCL is coming to the UAE and will rightfully be twice as exciting. In addition to watching the star-studded sports spectacles from the grandstands, this time fans will get a chance to be a part of CCL through our social media and promotions around the event," said Jessica Aziz, Director, AURA Event Management.
(Supplied)
The Celebrity Cricket League (CCL) is a sports entertainment body comprising of movie stars from Tamil, Telugu, Kannada, Kerala, Bangla & Hindi Film industries.
These celebrities represent different teams that meet for an annual tournament of the international Twenty-20 format cricket.
The league was formed in October 2010 and brings 60 Artists from 4 different languages together reach year for their passion of Cricket.
(Supplied)
Follow Emirates 24|7 on Google News.