Salman Khan pulls a blink-and-miss appearance on 'Jai Ho' Dubai world premiere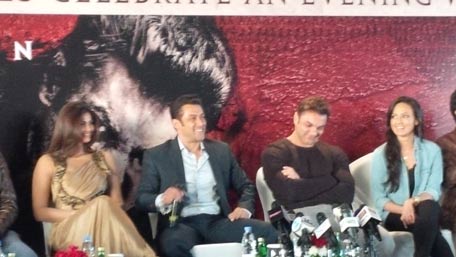 Several of the hundred-odd fans that turned up at the Dubai world premiere of 'Jai Ho' to cheer for superstar Salman Khan, walked away slighted when the actor failed to interact with the crowd that had waited hours to greet him at the Meydan IMAX.
When the hostesses on the red carpet did grab the Bollywood superstar for a sound bite, he addressed the crowds for a few minutes before leaving the floor for his co-star Daisy Shah to thwart the questions.
Khan, who was attending the premiere with his beaming leading lady by his side dressed in purple Indian lehnga (skirt), did not keep fans waiting for long, being the first to arrive at the red carpet event on Wednesday evening.

Surrounded by bodyguards and photographers as they stepped out of the car and walked down the red carpet, several waiting fans barely got a chance to catch the two celebrities as people pushed forward towards the barriers, while several attempted to climb the scaffolding to get a better view, with no security managing the fan pen.

Before escaping the red carpet with a smile, Khan was stopped to address the waiting crowd, which he finally obliged by mouthing the now famous dialogue from 'Jai Ho' that capsules the pay-it-forward concept of helping three strangers, who in turn can help three others.
Once the duo made its blink-and-miss appearance on the red carpet, it was brother Arbaaz Khan's turn to speed walk his way to the finish line.

In this melee, third brother and director of the film that was premiering on the night, made his escape from the red carpet unnoticed.

It was only after some fans pointed out that Sohail Khan had already entered the arena that the hostesses and remaining media realised the major stars of the premiere had come and gone.
The remaining cast and crew laggards included musicians Sajid-Wajid, actors Santosh Shukla, Haroon and singers Armaan and Amal Malik; former 'Bigg Boss' star Sana Khan was the last one to stagger in an hour after Salman had made his entry at 8pm.


For fans such as Priyanka Gehani, who was attending the event with her entire family, including both parents and two siblings, the event was a "little disappointing".

Speaking to Emirates 24|7, the 17-year-old said: "I love Salman Khan. I only came here to see him. I even wore a Being Human t-shirt (charity run by the actor) to show my support. But he didn't so much as look at all of us standing here.

"Maybe it wasn't even his fault because the bodyguards and people escorting him simply carried him forward without even taking into regard all of us who have been waiting out here for hours."


Gehani's disappointment was echoed by several other hopefuls that were standing across the barriers, squeezed in between the media, waiting to get an autograph from their on-screen idol.

Meenakshi Bhatia, a mother of two teenage children who she was escorting on the night, said: "I wasn't comfortable allowing my children to be dropped here with fans pushing and shoving and no security here where the fans are standing.

"Thankfully, the crowd is much lesser so there was no danger of the kids being hurt physically. But I know my 14-year-old daughter was hurt a little emotionally that Salman didn't even stop to talk more than a few minutes to his fans, forget waiting to take pictures or sign a few autographs.

"But, I guess when you are a big star, such things don't matter."
A Parekh simply asked: "But why didn't they stop to sign autographs? The actors always stop."

While chaos and confusion ensued outside with the fans and the media squeezed into a generic pen, the happenings inside the premiere event itself also remained a mystery with the press being turned away from providing any further coverage after several being invited.

However, for fans such as Mehdi Akhtar, even a glimpse of his favourite star was worth the melee. He said: "I am just happy I saw Salman Bhai (brother). He is my inspiration when I go to the gym, to build a body like his that will impress."

Akhtar added: "I had also attended Shah Rukh Khan's 'Ra.One' premiere in Dubai, but there were too many people attending that event to even give us a chance see him for more than a second. At least with Salman's event, the lesser crowd gives people like me to see more of Sallu's attitude in action."
For 20-year-old Ruchika, who even won a Being Human t-shirt while waiting for her favourite star, said: "I want to marry Salman Khan. I love him so much!"

Organised by Pacific Ventures, Aura Event Management and Creative Angels, we did catch the CEO of Splash Fashions, Raza Baig, on the red carpet who confessed he had already seen the film.

In his own words: "'Jai Ho' is pure Salman Khan. If you like his brand of acting, then this film is your money's worth."
Follow Emirates 24|7 on Google News.