Salman Khan ready for new TV show; Bigg Boss to have new host?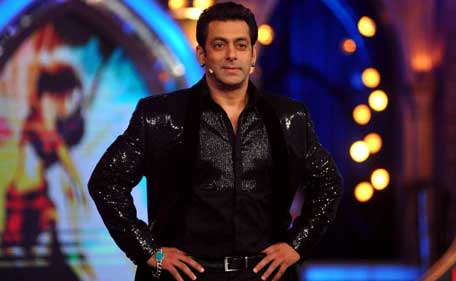 The rumours of Salman Khan quitting as Bigg Boss host are getting stronger, day by day.
During one of his promotional interactions with the press for 'Jai Ho', Salman Khan spilled the beans on hosting a new TV show on social causes.
However, Salman will not eat into good friend Aamir Khan's fan base on TV.
In 2012, Aamir Khan launched the 14-episode talk show 'Satyamev Jayate', which highlighted issues like female foeticide, evils of dowry and malpractices in medicine.
While he will be hosting a new show concerning social causes it will not be on the same line as Aamir's 'Satyamev Jayate'.
The concept will be different emulsifying social issues with lot more entertainment.
"It's a brand new show altogether, we will rock next year," Salman told the media at an event.
Well, with Salman as a host it's entertainment at its best.
Indian Bollywood actor Salman Khan looks on while hosting the final of the reality show 'Bigg Boss 7' in Mumbai on late December 28, 2013. (AFP)
The 48-year-old actor, who had also hosted another reality show 'Dus Ka Dum', did not clear the air about hosting 'Bigg Boss' Season 8.
Speculation is rife that Salman has had enough of Bigg Boss and wants to quit the show.
This season of 'Bigg Boss' also saw Salman being dragged into controversies and labelled as partial towards certain contestants due to his personal equations.
Salman was compelled to explain his actions on Twitter after facing a barrage of allegations.
Salman tried hard to deal with the chaotic situation in the house.
Be it warning Tanisha about the cameras keeping an eye on her intimate moments with Armaan or slamming Kushal for his behavior in the house, Salman never held back.
It was also reported that despite his wish, the makers of the show called back Kushal who was ousted from the house for being violent.
But Salman moved on to complete the season and hosted an impromptu party for the contestants after the show got over.
During the finale shoot, after the show went off air, Salman was spotted sitting on the stairs with a sad face having a last look at the sets.
It seems Salman Khan is over and done with Bigg Boss.
Currently, Salman is gearing up for the release of 'Jai Ho!', an action film set for a January 24 release.
Follow Emirates 24|7 on Google News.