Salman Khan's interest in Elli Avram spoils Daisy Shah's chances?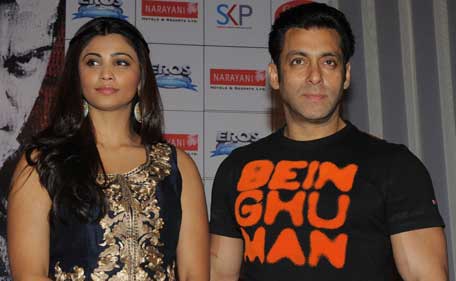 After staying away from the big screen for almost a year Bollywood actor Salman Khan will be back with 'Jai Ho'.
Just a week before the release it's an overdose of Salman Khan, appearing on every TV reality shows and hopping around from one city to another. No one is complaining - after all it's the 'Dabangg' Khan.
But leading lady Daisy Shah isn't too thrilled with the lack of exposure she is getting in the wake of the release.
She was accompanied Salman on reality shows like 'Comedy Nights With Kapil' and 'Dance India Dance' but feels that Salman is not promoting her enough.
(AFP)
The actress thought that, since this is her big break and first major Bollywood film, she would be promoted heavily by the actor like he did for other newcomers.
Salman Khan is known to go all out in promoting a talent when he takes them under his wing and this is where Daisy feels let down.
Daisy feels she's not getting the same treatment that he has doled out in the past to his other protégés.
Her insecurity also stems from the fact that ex-Bigg Boss 7 contestant Elli Avram is getting more publicity then her.
The fact that Salman is the reason for Elli's popularity is also troubling Daisy despite she being his leading lady of 'Jai Ho'.
(Supplied)
Salman has also indicated that he will cast Elli in a film and endorse her talent.
Elli Avram - another foreign import in Bollywood has become a household name in India, thanks to the reality show 'Bigg Boss 7'.
Elli has built a good rapport with host and Bollywood heavyweight Salman Khan.

It was evident that Salman was very fond of Elli Avram during his interactions with her in 'Bigg Boss 7' house. While hosting the show, he even remarked that she resembled his ex-girlfriend Katrina Kaif!

The actor paid special attention to her and this mentoring has now gone beyond the show.

During the show finale the duo performed to the song "Mashallah", which was picturised on Salman and Katrina Kaif. Eyewitnesses say Salman was very attentive to Elli in the after-party.
She was also a guest at Salman Khan's birthday party. Reportedly Salman has taken her under his wing and even recommended her name to Kunal Kohli.
Indian Bollywood film actors Salman Khan (C) and Daisy Shah perfrom during the promotion of the upcoming Hindi film 'Jai ho' on the set of the TV Hindi show, 'Comedy Night with Kapil' in Mumbai on January 9, 2014. (AFP)
What adds insult to injury is that Daisy's chemistry with Salman has not been appreciated.
Though she has a confident screen presence, there is no chemistry with her hero. The chiffon saree clad actress reminds us of all the run-of-the-mill actresses in Bollywood.
'Jai Ho' is the story of an upright common man who fights a solitary war against corruption and injustice. The film, a remake of Telugu film Stalin, also stars Tabu, Daisy Shah and Danny Denzongpa, among others.

The film, directed by Sohail Khan, is scheduled to release on January 24.
Follow Emirates 24|7 on Google News.