Salman Khan snaps: Hrithik can act, Shah Rukh Khan can overact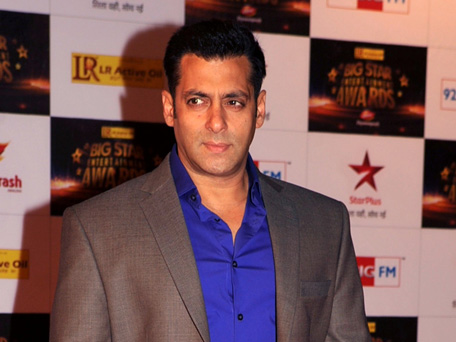 If there is one actor in Bollywood who wears his heart in his sleeves, that's Salman Khan.

He is open and obvious about his emotions and believes in saying it loud.

People around him operate very cautiously because no one really knows what triggers this actor to lose his cool. And Salman has the reputation of losing it quite easily; after all he is the 'Dabangg Khan'.

Recently, Salman lost his cool once again while shooting for an ad film and gave an earful to the director of the commercial.

While ranting he targeted his archrival Shah Rukh Khan and poor Hrithik Roshan was also dragged in the conversation.

During the shoot with TV actress Aamna Sharif when Salman walks up to her, the director asked him to redo the walk. He didn't like it and in his style said, "Agar walk karana hai toh kisi model ko bula lete" (If you want someone to walk why don't you call a model).

Later, when the stunned director requested him to shoot again to get his expressions right, Salman hit back saying: "Agar acting hi karani hai toh Hrithik ko le lete aur agar over acting karani hai toh Shah Rukh ko le lete", (If you want someone to act get Hrithik and if you want someone to over act get Shah Rukh Khan) reported Mumbai Mirror. After this the actor stamped out of the sets.

It is loud and clear that Salman Khan does not believe in being politically correct.

We do not want to contradict Salman's point that Hrithik can act and that Shah Rukh does get little carried away with his script.

But we do want to know what is Salman Khan good at - talking and being politically incorrect?

If Salman cannot comply with a director's request for re-takes he can be a pain as an actor.

The crew had to manage with whatever shot they had done, whether they like it or not because the superstar Salman Khan called it a day for them.

There is no doubt he is the reigning king of Box Office but critics might not like to crown him as the reigning king of acting.

We suppose even Salman understands that. At a recent award function he told reporters, "I don't feel I have done anything so far to deserve an award. But the day I do, let me assure you I will take home the award, no matter how much anyone else lobbies for it."

The Salman Khan-Shah Rukh Khan war doesn't show signs of dying down, and Sallu has confirmed this by taking another dig at SRK.

The two actors have been in a cold war since 2008 when they came to blows during actor Katrina Kaif's birthday party.

Of late, it seemed as if they'd made peace when Salman praised Shah Rukh's hard work while hosting TV reality show Bigg Boss. He also attended SRK's 'Jab Tak Hain Jaan' premiere raising several eyebrows.

But with this stinging jibe at SRK, Salman made his intentions clear of no peace deal.
MUST READ:
Congratulations! It's a boy for Priyanka and Vivek Oberoi
Nach Baliye 5: Ex-lovers Akshay Kumar, Shilpa Shetty to face each other
Why Aishwarya, Kajol, Bipasha may not be role models for your kids...
Follow Emirates 24|7 on Google News.