Salman Khan stands by Kamal Haasan but ignores Shah Rukh Khan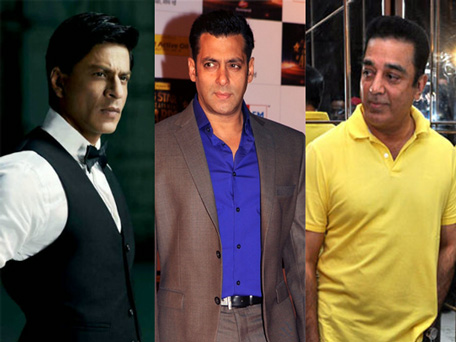 Indian Filmmaker Kamal Haasan's movie 'Vishwaroopam' still remains banned in the state of Tamil Nadu following protests from a section of society over certain scenes in the movie, which they feel is derogatory to their community.
'Vishwaroopam', has not been cleared by the UAE censor board as well.
When Haasan was in Mumbai promoting his movie he found an unlikely supporter - Salman Khan.
This Bollywood actor has been very vocal about his support to 'Vishwaroopam'; constantly tweeting and urging followers to watch the movie opposing the ban.
Bollywood A-listers have strongly reacted to the ban imposed but Salman, foremost among them, decided to walk the talk.
He arranged a special screening of the film in Mumbai further endorsing Haasan's film.
The filmmaker was overwhelmed by this show of support and was pleasantly surprised by Salman's gesture. When the screening got over, Kamal Haasan, who was waiting outside greeted everyone present and thanked them.
Mumbai Mirror reports, Salman's gesture was even more overwhelming for Haasan as they were not well acquainted or buddies.
There is no dispute to the fact that Salman Khan is a man of his word. When he pledges support to a certain cause he will put all his might behind the purpose.
Slowly but steadily once known as the bad boy of Bollywood is gaining quite a reputation of a Good Samaritan.
But in a stark contrast to his support to Kamal Haasan, Salman Khan remained completely silent and non-committal over the controversy Shah Rukh Khan's article 'Being a Khan' courted.
Shah Rukh became the centre of a diplomatic row between rivals India and Pakistan following his account in an Indian news magazine of how it was to be a Muslim living in India after 9/11.
Shah Rukh Khan's words took an unwarranted twist.
Pakistani interior minister Rehman Malik, perceiving SRK to be unsafe, called upon India to augment his security. Matters were aggravated further by Hazif Saeed, founder of Pakistan's Lashkar-e-Taiba group, offering Shah Rukh asylum in his country.
The hullabaloo erupted on news televisions; resulting national debate; the politicians and media passed various judgments.
Finally, Shah Rukh clarified, "Ironically the article I wrote (yes it is written by me) was actually meant to reiterate that on some occasions my being an Indian Muslim film star is misused by bigots and narrow minded people who have misplaced religious ideologies for small gains…and ironically the same has happened through this article."
The film fraternity stood firm with SRK. On Twitter, too, #westandbysrk was trending, with fans voicing their support for the actor.
But Salman Khan remained unmoved on the issue. Waging social awareness on Twitter of lately, Salman was silent on this one, not a word or any indication of his stand.
While he stood by Kamal Haasan and went out of his way to show support, Salman was completely mum on the issue that surrounded his once friend Shah Rukh Khan.
Well, the fact that Salman and Shah Rukh were once thick friends and now have turned warring Khans is a known fact.
Salman may have his reasons or ideology for not expressing on this controversy but when the entire industry is standing by for a cause why is Salman quiet?
Both Haasan and SRK are from the same film industry and both deserve the backing from the fraternity. If Salman can stand by Haasan why ignore Shah Rukh who, according to fans, is a victim. Well, Shah Rukh himself might not need any special word from Salman but isn't it good to watch each other's back when you are in the same business?
We do not intend to question Salman's integrity or large hearted persona but as the controversy almost toppled over each other and Salman jumped in prominently supporting Haasan, his shying away from Shah Rukh's issue was little jarring.
This website wrote to Salman Khan but is still waiting for his response.
MUST READ:
2 moms in showbiz: Beyonce at Super Bowl asks Aishwarya a question
Beyonce talks about miscarriage & lip sync on Inauguration Day
Bollywood debut of 'Hottest Indian Woman of the Century': Freida Pinto
Bollywood's bad boys: Aamir, Hrithik, Shah Rukh and now John Abraham
Follow Emirates 24|7 on Google News.