Salman still crazy about Katrina, says one of 'strongest women'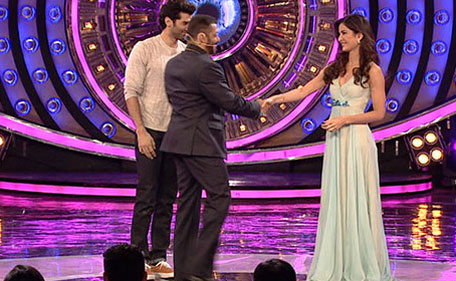 The star-studded grand finale of 'Bigg Boss 9', hosted by Salman Khan, announced Prince Narula as the winner of the celebrity reality show.
Even as the countdown for the winner's announcement was on, the high point of the evening was Katrina Kaif's entry in the show.
The actress graced the finale to promote her upcoming film 'Fitoor' along with co-stars Aditya Roy Kapur and Tabu and director Abhishek Kapoor.
Katrina Kaif entered the stage, looking pretty in a flowing gown.
The actress went onto give a mushy dance performance with Aditya to the beats of the 'Pashmina' number form 'Fitoor'.
Her presence garnered much attention as Katrina appeared on ex-boyfriend Salman's show on the heels of breaking up with her boyfriend of over five years, Ranbir Kapoor.
Katrina has thus far avoided promoting films on the show and the last time she came on Bigg Boss was when she had started dating Ranbir.
Whispers did the rounds if Salman and Katrina's continued friendship had anything to do with her much-publicised split.
Despite speculations that she might not keep her commitment to promote 'Fitoor', the actress did keep her promise.
During the show Salman showered lavish praise on his gorgeous guest, an actress he had mentored in her early years.
Salman told his former girlfriend that he is crazy about her.
"Entire India is crazy about you including me," said Salman to Katrina, a comment which made the pretty actress blush and laugh.
He admired how she has emerged a winner in her journey from London to Bollywood and how she has become a dancer from a non-dancer.
"The country is in love with you, Katrina, because you are beautiful and talented. You are one of the strongest women I know" he said.
Salman then got Aditya Roy Kapur to tell him some of the 'Fitoor' dialogues, and then he proceeded to recite them himself and romance Katrina.
Salman said that he loved the song 'Pashmina' from the movie, and especially Katrina's dance in it. Aditya quipped that he was in the song too, but Salman just said, "My eyes were only on her."
This is all Salman being nice and cute, Katrina on the other hand kept her distance and punctuated Salman's praises with pearls of laughter - she was in no mood to fuel any rumours for sure.
All pics: Twitter/BiggBoss
Follow Emirates 24|7 on Google News.