Samantha Markle happy about Meghan's pregnancy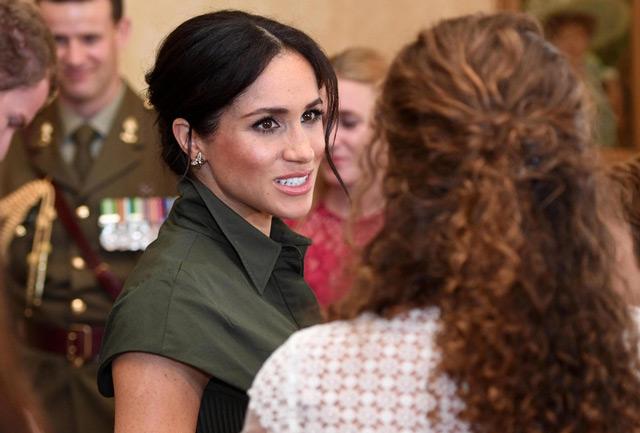 Samantha Markle hopes Duchess Meghan's pregnancy can draw a line over their family problems and she is keen for their father, Thomas Markle, to be involved with their grandchild.
The outspoken actress has been a vocal critic of her half-sister but insists she wishes her well following the news she and her husband Prince Harry are expecting their first child together.
She told The Sun newspaper: "It just makes everything that happened over the last year disappear. I want Meghan to be happy and calm and have peace. Everybody needs to be positive."
However, Samantha was upset that their father, Thomas Markle, wasn't included in Kensington Palace's official statement announcing the happy news, even though the former 'Suits' star's mother, Doria Ragland, was mentioned, and she hopes the snub was unintentional and the retired lighting director - who hasn't seen his daughter since before her wedding in May - will be involved in his grandchild's life.
She added: "I would hope that - for the sake of the baby, the family, the world and my dad - that leaving him out of the statement was not intentional.
"I hope my dad is included and at a proper time. If he is excluded, I won't be happy. It is in the best interests of the baby for my dad to be included.
"A baby changes everything and softens everyone. I would only hope that there would be some adjustment or some way of including him."
And Samantha has called for the 37-year-old duchess and her 33-year-old spouse to move towards a reconciliation with Thomas - who missed their wedding after undergoing heart surgery - and have a proper discussion about the difficulties between them.
She added: "I think we all have to safeguard against any negative or hurt feelings and just work towards a positive joyous new life in the world.
"At a proper time, there should be a sit-down wherein everyone can address this properly. Everything has to work itself out. I want to allow Meg and Harry to bring my dad into it in their own appropriate time because they very well should do. Although I can still say I love my sister, I wasn't happy with the way my father was being treated.
"But, you know, we're also seeing now that there was a lot going on - there may have been a lot of stress.
"I'm not saying that's an excuse for not communicating with my dad, but maybe she wanted to wait until the exact right moment. I don't want Meg to feel any stress and I want my dad to feel happy and I think all things will come full circle."
Meanwhile, Thomas - who was said to have embarrassed his daughter and Harry after being paid to stage paparazzi photographs before their wedding - is said to be "absolutely delighted" with the news of Meghan's pregnancy.
A source said: "Thomas is absolutely delighted. He heard the news before it was made public and was overjoyed. He thinks Meghan will make a great mum as she is already so maternal.
"Thomas sees this as a chance to fix the problems between him, Meghan and Harry. He is desperate to be there for his grandchild and wants to play an active role in their life."
Follow Emirates 24|7 on Google News.