Scanlan of Nebraska is Miss America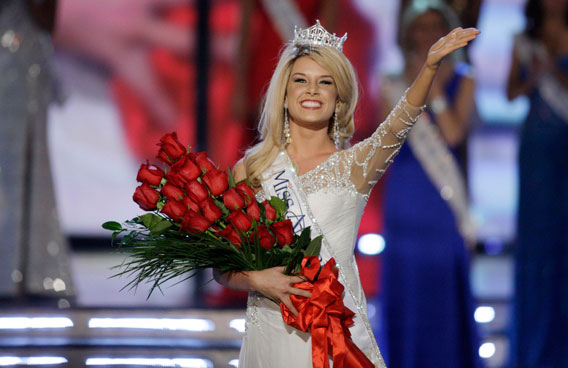 Nebraska's 17-year-old Teresa Scanlan was named Miss America Saturday becoming the youngest winner ever in the pageant's history after a night of being judged for poise, talent, fitness and knowledge.
Scanlan wowed the judges wearing a stunning white evening gown and tickling the ivories on piano with rousing rendition of "White Water Chopped Sticks" in the talent competition.
In the final question, she was asked about the leaking of confidential government information by website WikiLeaks and whether US security or the people's right to know sensitive information was more important.
Scanlan saw the leaks as a matter of espionage and said: "When it comes to the security of our nation, we have to focus on security first and then people's right to know ... We can't let things like that happen, and they must be handled properly, and I think that was the case."
The first runner-up, who will take Miss America's place in the case Scanlan can't perform her new role, was Miss Arkansas Alyse Eady.
Among other noteworthy contestants was Miss Delaware, Kayla Martell, who made it into the semifinals. Martell suffers from a disease, alopecia areata, that caused her to lose all her hair at age 10, and she competed in a wig.
This year marked the 90th pageant in the history of Miss America. The organization runs achievement programs and is a major provider of scholarship assistance for young women. In 2010, the group and its state and local affiliates helped give out more than $45 million in cash and scholarship assistance.
Fifty-three women were chosen from states and territories across the country in local contests before they headed to Las Vegas and the final pageant Saturday.
As Miss America, Scanlan will take the next year to travel the United States and raise awareness about eating disorders.
Miss America 2010, Caressa Cameron from Virginia, 22, was a goodwill ambassador for the Children's Miracle Network, and she spent the year helping raise awareness for HIV/AIDS.
In the week ahead of Saturday's competition, contestants were judged in preliminary events for evening wear, fitness and swimsuits and answer questions in an interview.
From those events, 11 semifinalists were chosen to compete Saturday night. Joining them were four other contestants - two picked by online voting and two others by the remaining young women in the pageant.
The 15 semifinalists were narrowed Saturday in contests that again include evening wear, fitness and swimsuits, talent and a final on-stage question for the top five women. Then, the top five were ranked to get to the new Miss America.
This year, seven panelists judged contestants in the final round as they answered their question in 20 seconds. The judges - including TV talk show co-host Joy Behar, "Dancing With the Stars" professional dancer Tony Dovolani, and "Desperate Housewives" creator Marc Cherry, among others - watched for confidence, knowledge and quick thinking in formulating an answer.
Joining Miss Nebraska and Arkansas among the five finalists were women from Hawaii, Washington and Oklahoma.
The show included a rousing opening musical number by all 53 contestants, and it was hosted by TV personalities Brooke Burke and Chris Harrison.
Follow Emirates 24|7 on Google News.