Scarlett Johansson: I was scolded by Samuel L. Jackson at the Oscars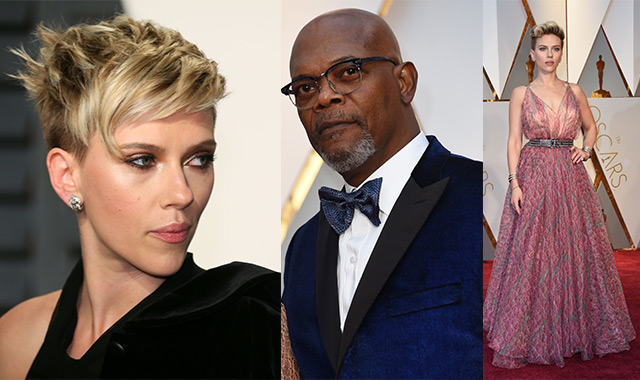 Hollywood actress Scarlett Johansson has revealed she was "scolded" by Samuel L. Jackson on the red carpet at the Oscars for not sending him pictures of her two-year-old daughter Rose.
The 32-year-old actress bumped into her 'Avengers' co-star at the annual awards bash in Los Angeles on Sunday evening - but was given a telling off by her friend for falling to keep him informed about the progress of little Rose.
Scarlett said while giggling: "I was excited to see Sam Jackson, but then he scolded me for not sending him enough pictures of my kid."
And Scarlett, who stars as the Black Widow in the Marvel movies, admitted to being a little flustered by Jackson's greeting.
She told E! News: "I was like, 'Honestly, here on the red carpet?' He was like, 'Where's my picture?'"
The Hollywood actress also confessed she can't remember what Jackson bought for Rose when she was born - which she predicted would also upset the 'Pulp Fiction' star.
Asked about Jackson's baby gift, Scarlett said: "Oh, gosh! What did he get the baby? Don't ask me. If I don't remember, he's going to get angry again. You know, you want Sam on your side!"
Meanwhile, Scarlett claimed earlier this month that monogamy is "unnatural".
The blonde beauty - who was married to Ryan Reynolds between 2008 and 2011 and is also thought to have separated from her second husband Romain Dauriac - said it is "a lot of work" to be in a relationship with just one person.
She explained: "With every gain there's a loss, right? So that's a loss. You have to choose a path. I think the idea of marriage is very romantic; it's a beautiful idea, and the practice of it can be a very beautiful thing. I don't think it's natural to be a monogamous person. I might be skewered for that, but I think it's work. It's a lot of work.
"And the fact that it is such work for so many people - for everyone - the fact of that proves that it is not a natural thing. It's something I have a lot of respect for and have participated in, but I think it definitely goes against some instinct to look beyond."
Follow Emirates 24|7 on Google News.