Secret wedding: John Abraham, Priya Runchal married in 2010?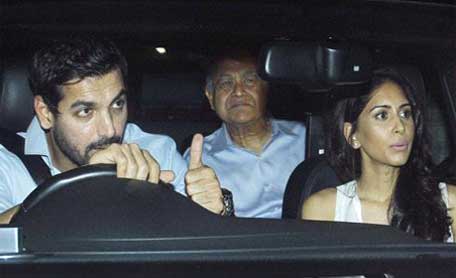 Well, that is what grapevines seem to suggest now. Sources close to Bipasha Basu claim that John separated with the leggy actress to marry Priya Runchal.
Senior journalists in the Mumbai media circle claim that it was indeed Bipasha's PR team that had informed the media about John and Priya when they were out on a date, immediately post the John-Bipasha break up.
Meanwhile sources also claim that Bipasha and John's split came because John had made up his mind not to marry Bipasha and left the relationship because he wanted to marry Priya.
Cut to Circa 2010. Stories abound on how John Abraham and Priya Runchal first met in a gym in Bandra in December 2010.
According to John the two met via a mutual friend in April 2011 after his break up with Bipasha, something the actress has denied off record.
John and Bipasha's relationship officially ended in early 2011.
We are told by John's coterie that love bloomed between the two only post that. John has vehemently denied that Priya was the reason for the break up with Bipasha.
The question still is, were John and Priya actually married three years ago in 2011 even though there are strong rumours to suggest that they were certainly engaged by then.
John's family has however said that the marriage was on John's mind for long and since John and Priya are from different religions the marriage was consummated at the office of a registrar in Los Angeles.
While John still insists that he met Priya through common friends when she was an investment banker and not in the gym, gym colleagues of the actor and the banker claim that the meeting took place in the gym first.
John had met a bunch of female journalists more like a dinner date while promoting his film 'I Me Aur Main' and told them then that Priya was off to London for two years to do her MBA and that they will get married only when she finishes her studies.
But this sudden marriage announcement has come as a surprise for a lot of people.
John had earlier visited Priya's parents in Los Angeles and the rest of her family in Kangra a few months later when her 101 year old grandfather passed away.
Priya comes from a wealthy background and her family owns a few properties in the beautiful state of Himachal Pradesh near the Kangra valley.
Of late, Priya would often visit John on the sets of Shoojit Sircar's 'Madras Café' and unit members say that she would behave more like the 'wife' than 'girlfriend'.
In fact one look at the way John has invested his money and we realize that he is one of Bollywood's intelligent investors, perhaps with some tips from Priya.
John took over a place - The Green Acre property - in suburban Mumbai at Khan which has two offices - Abraham John Architects (AJA), and JA Entertainment Pvt. Ltd, his production unit.
The overseas wing of his production house is now based out of a plush area in Central London to showcase upcoming British talent through movie productions.
And then again on the other side of the globe, where he married, he has bought a property in Bel Air, Los Angeles and can peep into the homes of Hollywood stars Jennifer Aniston, and 'Brangelina'.
And then there is the 60,000 square feet of prime property in Mumbai and you know that he is not just a muscular actor.
Meanwhile Priya has maintained her distance from the media, trying not to speak about her past or her future with John.
Follow Emirates 24|7 on Google News.