Selena Gomez 'crushed' by Justin Bieber, Chantel Jeffries link up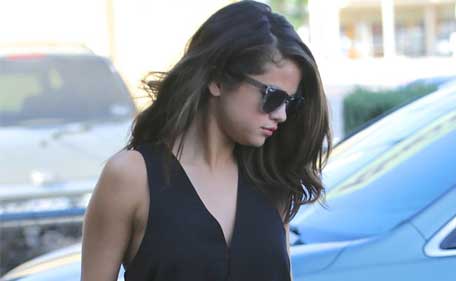 Selena Gomez is "crushed" that Justin Bieber took Chantel Jeffries on holiday with him.
The 'Spring Breakers' star was thought to be getting back together with the 'Never Say Never' singer in January - a year after they initially broke up - before becoming upset with his partying and dumping him, but she is still annoyed he took Chantel on a break to Panama with him earlier this week.
A source told HollywoodLife.com: "Selena is sad but she's also angry. She feels like Justin played her because just when she was getting some closure and strength he convinced her to come back to him and made all kinds of promises. But it turns out they were all lies and now she's back at square one."
The 21-year-old star is also upset bad boy Justin - who currently faces legal problems in the US and Canada - has changed so much since first started dating in 2010.
The source added: "In a way she's mourning because she's realised that he just isn't the guy she fell in love with anymore."
Another of Justin's ex-girlfriends, Milyn Jensen, has previously claimed his cannabis habit is out of control.
She said: "It's no secret that Justin loves his weed - there's probably not a moment in the day when's he's not got a buzz on.
"He's surrounded himself with the wrong people. He didn't want to be the cheesy popstar anymore and has gone way too far the other way."
Justin Bieber parties with mystery blonde
Justin Bieber partied with a mystery blonde in New York last night (31.01.14).
The 'Confident' singer's arrival in the US was delayed at the airport where customs officials searched his private plane for marijuana and held him for five hours of extended questioning - as he currently has two criminal cases pending against him - but he made it to the Maxim Big Game Weekend party.
The 19-year-old star had been turned away from three previous events because he wasn't 21, before being sneaked into the back entrance of the Maxim event just before 1am today (01.02.14).
Justin - who is rumoured to be dating Chantel Jeffries - arrived with an entourage of around 15 people and didn't leave the party until its very end at 4am.
A source told AccessHollywood.com Justin "invited a blonde girl into his booth. She accepted his invite, stayed with him for the duration of the evening, then eventually left with [him]."
Other sources say the singer was in a private booth for around 20 minutes before anybody realised he was at the party.
Security guards kept a watchful eye on the singer - who is in town for the NFL Super Bowl in New Jersey tomorrow (02.02.14) - to make sure he wash 't drinking and stopped partygoers from taking photos with cameras or phones, although one picture has surfaced of Justin showing his middle finger at a cameraman he had spotted.
Follow Emirates 24|7 on Google News.