Selena Gomez near death experience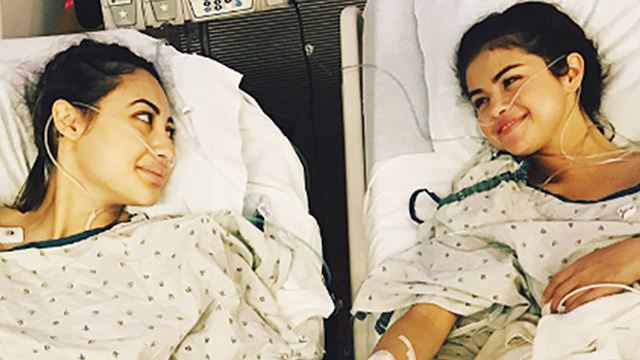 Selena Gomez "could have died" after her kidney transplant last year, after she broke an artery shortly after surgery.
The 25-year-old singer underwent the important operation last year after it was discovered that her battle with Lupus - in which the body's immune system attacks healthy tissue and organs - had left her in desperate need of a new kidney.
Her close pal Francia Raisa agreed to give Selena part of her own kidney, and has now admitted that the 'Bad Liar' hitmaker was terrified when an artery broke after her surgery and a new one had to be reconstructed using a vein in her leg.
Speaking to W magazine, Francia said: "I didn't want to eat, I didn't want to drink anything. Selena did have a complication, too. A few hours after our surgery, I woke up and had a text from her that said, 'I'm really scared.' My kidney was very active, and when she turned, she broke an artery.
"They had to take her into emergency surgery and get a vein from her leg and build a new artery to keep my kidney in place. She could have died."
It's not the first time the pair have spoken about the complications that came with the surgery, as the 29-year-old actress previously admitted she found the procedure "harder" to recover from than Selena did, as her body lost an organ rather than gaining one.
She said: "It's harder as the donor because we are losing something our body didn't need to lose, so trying to recover from that and she's gaining something her body needed. So she's up and at it immediately and I had a hard time."
Francia also claimed that Selena "felt bad" asking her pal to undergo surgery to save her life, but the actress insisted she was happy to help.
She added: "[Selena] felt bad about even having me do that because we are just friends, I am not her family or anything. Well, I am now. She has my blood. She felt bad. We just wanted our families around and it was cool because now I have a big family. I lost my grandparents when I was younger ... Her grandparents are my grandparents now and so I have this extension of a family and it's been really amazing."
Follow Emirates 24|7 on Google News.