Serena Williams is pregnant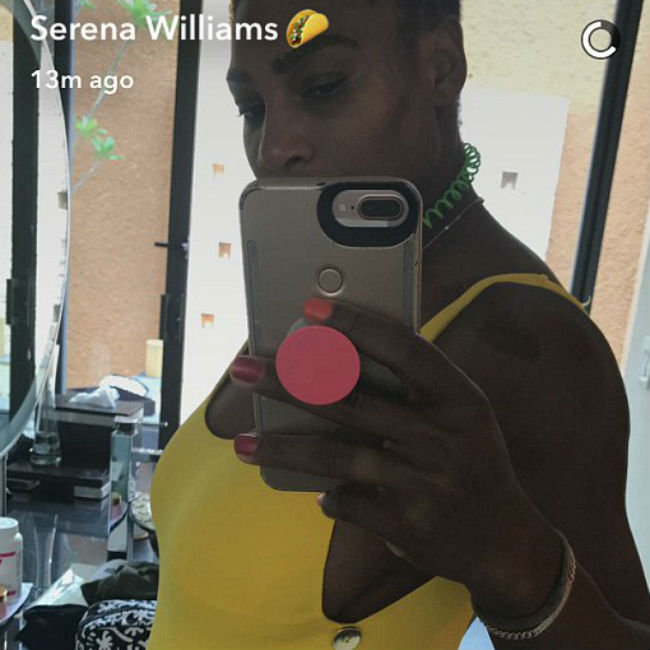 Tennis ace Serena Williams is 20 weeks pregnant with her and fiance Alexis Ohanian's first child.
The 35-year-old tennis player announced she and fiance Alexis Ohanian are expecting their first child together by showing off her growing baby bump in a bright yellow bathing suit on Snapchat on Wednesday.
Serena suggested she is well into her second trimester as she captioned the post "20 weeks".
Serena hasn't appeared on court since defeating her sister Venus in the Australian Open final in January, as she has pulled out of a number of tournaments this year.
The news comes just a few months after the couple announced in December they are getting married.
The sporting icon announced she and the Reddit co-founder were to tie the knot after just over a year of dating with a poem posted on her verified Reddit account.
She wrote: "I came home. A little late. Someone had a bag packed for me. And a carriage waited. Destination: Rome. To escort me to my very own 'charming.' Back to where our stars first collided. And now it was full circle. At the same table we first met by chance. But by choice. Down on knee. He said 4 words. And I said yes."
Selena previously revealed she wants to have children "some day" but still feels like she is too young.
She explained: "I definitely want to have kids one day. That's something I've always wanted since as long as I could remember. And the older I get, the more I'm like, 'I'm too young!'"
And speaking about her legacy, she said: "I never thought about leaving a tennis legacy. I always thought about leaving a legacy of fulfillment, living out your dreams, and giving back. I'm proud to have opened [two] schools in Africa and one in Jamaica [through the Serena Williams Fund and its partners]. I was given a lot. I was given two parents. That's already starting above a lot of kids. And then I was given the opportunity to play tennis and parents who supported that. I feel I can give back."
Follow Emirates 24|7 on Google News.