Serena Williams won't retire after giving birth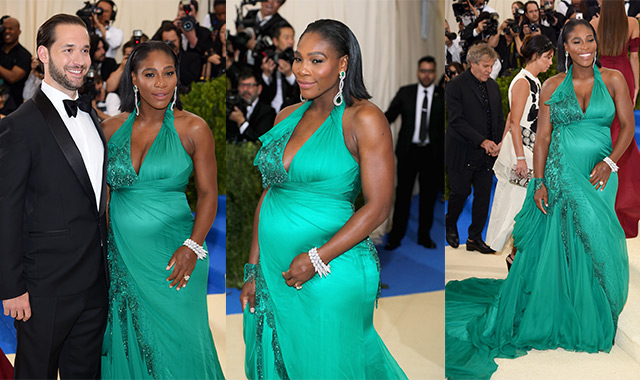 Serena Williams has said she will not retire after giving birth to her first child with fiancé Alexis Ohanian later this year.
The 35-year-old tennis champion is currently expecting her first child with her fiancé Alexis Ohanian, but has said she has no intention of throwing in the towel after the baby is born as she isn't yet ready to relinquish her titles.
Asked by a TMZ.com reporter if she will retire from tennis after welcoming her child into the world, Serena simply said: "Never."
Serena most recently defeated her sister Venus to be crowned the winner of the Australian Open in January, whilst she was in the early stages of her pregnancy.
She also took home the trophy at the 2016 Wimbledon Championship for both women's singles, and women's doubles where her partner was 36-year-old Venus.
Meanwhile, Serena also told TMZ that she hasn't had any unhealthy cravings throughout her pregnancy, as when asked which food she had been dying to eat, she replied: "Vegetables."
Serena and Alexis - who is the co-founder of website Reddit - recently revealed they are "waiting" to find out the sex of their baby, as they don't want to spoil the surprise.
When asked whether she knew the sex of the baby, Serena said: "We're waiting. [It's] a surprise. We call it 'baby.'"
The professional tennis player also said the duo aren't panicking just yet as they "have time" to prepare themselves before the baby is born.
Alexis, meanwhile, said the couple are feeling "really good" about the pregnancy.
Serena revealed her pregnancy earlier this year when she took to Snapchat to post a photo of herself with the caption "20 weeks", but recently revealed the photo was a mistake and she didn't mean to make it public.
She said: "Well, actually it was an accident. I was on vacation just taking some time for myself and I have this thing where I've been checking my status and taking pictures every week to see how far along I'm going.
"I didn't tell a lot of people to be quite honest and I'd been saving it. And you know how social media is when you press the wrong button ... and [there it was]."
Follow Emirates 24|7 on Google News.