Shah Rukh, Deepika fulfill little girl's wish in Dubai [video]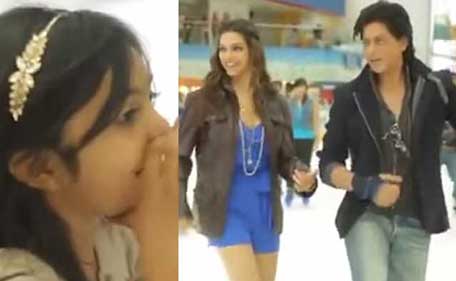 In September 2013, Shah Rukh Khan and Deepika Padukone were shooting a scene for 'Happy New Year' at Dubai Mall's Ice Rink.
There were dancers accompanying the stars and somewhere on the rink a little girl skated, eyeing SRK and Deepika all the time.
The scene had many Dubai residents winning a chance to be part of the song sequence.
Among them the pink-clad little girl, skated around the actors calling out to SRK.
Engrossed in their act Shah Rukh noticed the girl requesting him to perform the 'Lungi Dance' from his 2013 hit 'Chennai Express', also co-starring Deepika.
Almost without missing a beat, SRK and a giggling Deepika broke into the 'Lungi Dance' routine as the thrilled little girl watched in delight.
She gasped and could not believe Shah Rukh Khan was performing for her.
'Happy New Year', directed by Farah Khan, released last October and became a blockbuster hit.
This behind-the-scenes video of the impromptu jig was uploaded on YouTube on January 31 this year.
Also see: Movie Listings in UAE
Follow Emirates 24|7 on Google News.