Shah Rukh just won't talk about Salman Khan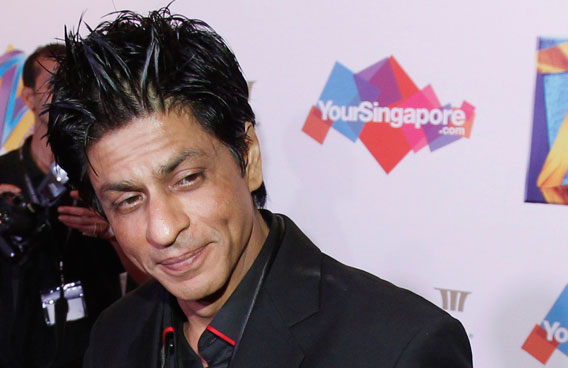 Shah Rukh Khan wants to clear up rumours about just how far he threw his weight around on the sets of his much-vaunted home production, "Ra.One". But quiz him on Salman Khan and he clams up. In an interview for Emirates247.com, he talks about the Oscars, 'Ra.One' and select other subjects.
It's being said that you have ghost directed 'Ra. One'?
You keep reading news that I am directing the films in which I am working in. No it is not true. I have worked in 70 films till date and I haven't directed any one of them. No one else has directed them too. The director has only directed them. Even 'Ra.One' has been directed by Anubhav Sinha only. I haven't directed it. Anubhav is a very humble man. He does not say anything. He is media shy too and he does no talk about his work. He does not talk much. He is a fantastic director. Insh'allah when this film comes out, people will understand his style of working, his talent and his passion towards his work.
'Ra.One' is billed as the first action thriller from India which is also a science fiction. Why such a subject?
Actually we haven't made films like this at all. No one has made science fiction as an action thriller in India at all. It is important that our regular filmmakers should come out with some good films. I have been in films for over 20 years, but we haven't used technology well. Else we will keep making the same kind of films again and again. 'Krrish' and 'Drona' were tow marvellous attempts at making different kind of cinema using technology.
Your character has blue eyes in the film. Did you think about your fans who love your eyes?
Some of the girls like the blue eyes. Some like hazel and some like blue. This look is for the ones who love the blue eyes.
Which directors do you like working with?
I feel very fortunate to have some great directors to work with me they have made some marvellous films and I am happy to have gotten to work with them and I am indebted to them. People like Yash Chopra to Adi [Chopra], Farhan [Akhtar], Karan [Johar], Shimit Amin and even Anubhav Sinha have done a great job and I hope I keep on getting to work with them.
After you extended an olive branch, Salman has told us that he does not want to have any kind of a friendship with you?
Can we talk about something else, please?
'My Name is Khan' did not make it at the Oscars. How do you feel?
Well, we believed a lot in the film. Karan and Shibani Bhatija wrote the film with a lot of passion and that has paid off.
You think 'Ra.One' also stands a chance?
'My Name is Khan' was clearly designed as an international film and it has an international appeal. That is why Fox Star was interested in it. 'Ra.One' is more of an Indian subject. I think will be happy if we like it in India and celebrate the film.
Also see:
Shah Rukh in tax probe over 'gifted' Palm villa

Shah Rukh, Farah Khan kiss and make up

'I don't care about weight, I must eat'

Follow Emirates 24|7 on Google News.