Shah Rukh Khan, Arjun Rampal in a confused state of friendship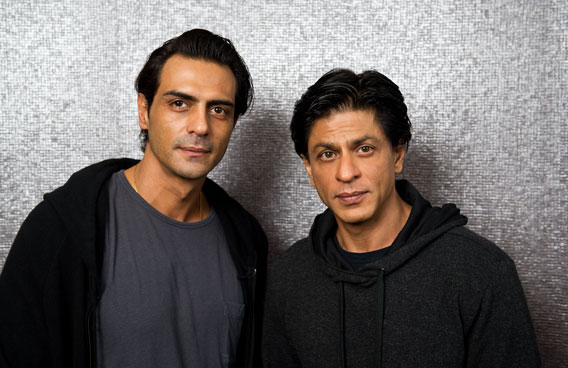 Believe it or not Shah Rukh Khan and Arjun Rampal, who looked past each other a week ago, hugged and chatted during an award function in Mumbai.

Strange are the ways of Bollywood. There are no permanent friendships or enemies in this industry. While this adage may have been proven true time and again, it has however, not been a lesson to prevent cracks from developing in long-standing personal relationships.

Actor Shah Rukh Khan and Arjun Rampal is the product of the same industry. And surprisingly, though they look sane enough not to fall in the trap of this confused state of affair in Bollywood their fractured relationship proves us wrong.
Lady Gaga celebrating her first performance in India with Bollywood stars Arjun Rampal and Shah Rukh Khan. (Twitter)
Shah Rukh and Arjun looked like Siamese twins a year ago. The two were inseparable be at wedding parties, trips abroad or during cricket matches, they cheered and jeered together.

But this didn't last long. SRK and Arjun had a fallout over Arjun's role in 'RA.One'. The final blow came when Rampal tried persuading Shah Rukh Khan to put an end to his alleged affair with Priyanka Chopra. Shah Rukh apparently didn't appreciate this interference.
The cracks appeared in their friendship and they let it widen. But all that might be a thing of the past now.

It seems all is well between the two actors; at least publicly. Mumbai mirror reports that Shah Rukh Khan and Arjun Rampal were seen hugging each other at the recent Screens award night.
Shah Rukh Khan (L), Kareena Kapoor (C) and Arjun Rampal (R) attend the premiere of the Bollywood film 'RA.One' on October 25, 2011 in London, England. (GETTY/GALLO)

Shah Rukh spotted Arjun and Chunkey Pandey chatting in the parking lot of the award function. After his performance when Shah Rukh was on his way to his vanity van he saw the two actors. SRK waved at them and caught up with them for a friendly chat. When they met Shah Rukh Khan hugged Arjun.

It was a shocker for the on-lookers as the two have successfully avoided each other for almost a year and suddenly they end their enmity with a hug.

Or maybe this is an unnecessary speculation of a simple hug-episode. SRK must have found himself in a spot when he came face to face with Arjun and as he shared a hug with Chunky he extended the same gesture to Arjun.

On second thought, when Arjun and Shah Rukh can look through each other on various occasions why couldn't they do so this time?

The two grown up gentlemen are really in a confused state of friendship.

The friends-turned-foe shared a friendly hug against all rumours of growing distance. Looks like the two actors are either too good at their job (acting) or they are just not ready to give up their friendship.
MUST READ:
Bigg Boss: Why Imam had no chance against Urvashi... or Shweta Tiwari
No baby bump but a July baby for pregnant Kate Middleton
Akshay, Katrina are back together... is Ranbir listening?
Follow Emirates 24|7 on Google News.