Shah Rukh Khan busted, broken yet putting up a brave smile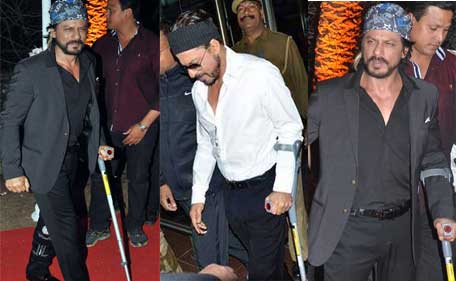 We salute the spirit of Bollywood stars who don't shy away from making their appearances during events even when they are hurt. With canes, casts and shining slings they make their glittering presence felt.
Superstar Shah Rukh Khan is a shining example of their showman spirit. From walking the ramp with a designer sling to attending weddings on a crutch, SRK did it all.
In his first public appearance after suffering injury on the sets of 'Happy New Year', Bollywood superstar Shah Rukh Khan regaled everyone at a high profile wedding in Udaipur.
Shah Rukh had committed to attend the wedding and he kept his word, even though he was seen hobbling his way out of the Udaipur airport on a crutch.
Shah Rukh Khan attends Udaipur wedding. (Facebook)
At the airport he looked a bit haggard; he had a woolen hairband on the head, and wore black trousers and a white shirt.
At the wedding SRK tried his best to look his best and also ditched the crutch for some time.
He charmed the bride and the groom, and mingled around with other guests.
Shah Rukh Khan attends Udaipur wedding. (Facebook)
A lot of Bollywood celebs flew to the Rajasthan city for the wedding of the NRI couple, Heena and Gaurav. The wedding reception was held at Jag Mandir.
Earlier, after a shoulder injury, SRK walked the ramp with his IPL team Kolkata Knight Riders in a sling designed by Manish Malhotra.
Shah Rukh Khan has always embodied the never-say-die spirit and oodles of attitude, carrying his shoulder sling with panache.
SRK promoting 'Chennai Express'. (AFP)
In 2012, after Shah Rukh Khan had undergone shoulder surgery he was seen incessantly promoting his Hindi film 'Chennai Express' with a sling.
Shah Rukh Khan arrives to attend the wedding reception of actress Ahana Deol and husband Vaibhav Vohra in Mumbai on February 2, 2014. (AFP)
At Ahana Deol's wedding recently, SRK turned up with a stylish bandanna wrapped around his head and a cane that spoke volumes about the injury the megastar sustained.
Nevertheless the superstar is also being human and tweeted, "Worked. Dented, bent & broken but hopefully into shape. Only my work understands me for the rest I am outside their content of understanding".
Farah Khan's 'Happy New Year' has begun its next big schedule, but without Shah Rukh Khan.
The filmmaker took to Twitter to announce the news, "And another big schedule starts of 'Happy New Year' today (Monday)! It's always like a family reunion...and yes am letting Shah Rukh Khan rest today (Monday)."
In the recent pictures we can see a harness of sort in SRK's leg but the actor is downplaying his injuries.
Farah told a popular Indian daily, "His knee is busted and the shoulder has gone for a toss. His head too was bleeding profusely. Any other actor would have gone on a two-month rest, but we've only pushed
the schedule back by a week. We'll re-start with the low-intensity scenes and I can promise there will be no action or dance for SRK until he is completely recovered."
Looks like Shah Rukh is busted but he is still putting up a brave face.
We guess it's time to take it easy.
Follow Emirates 24|7 on Google News.