Shah Rukh Khan comes face to face with his biggest 'Fan' and enemy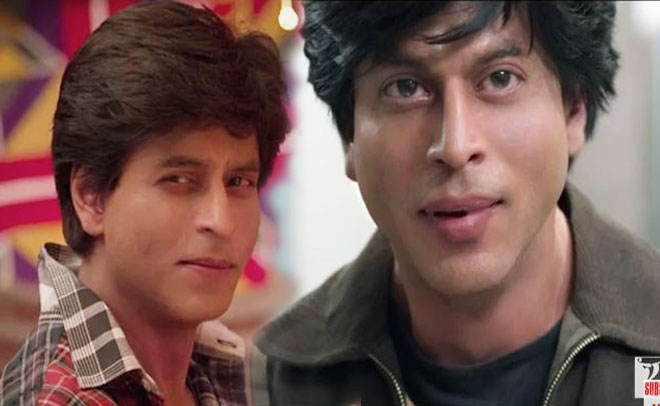 Bollywood superstar Shah Rukh Khan released the trailer of his movie 'Fan' amidst much fanfare.
The star was at his best during the event interacting with 'real' fans and happily answering questions.
Scroll down for video
But this is not what makes us happy; what makes us smile is his new movie 'Fan'.
It revolves around a young boy from Delhi named Gaurav who embarks on a journey to the city of dreams, Mumbai, in order to wish his favourite actor on his birthday. Gaurav is Aryan Khanna's (the actor) biggest fan and even has a striking resemblance to him.
So his uncanny resemblance should have been his ticket to meet Aryaan, right? But then he was asking for time from the world's biggest star.
When things don't go according to plan, Gaurav's craze for his idol turns in to a dangerous obsession.
Directed by Maneesh Sharma and produced by Aditya Chopra, 'Fan' is slated for April 14 release in the UAE.
Thanks to the technology, special effects and the make-up, Shah Rukh's transformation as Gaurav has impressed the audience. Gaurav is a lot of prosthetics and VFX.
Shah Rukh has always been panned by critics for his lack of act skills and criticised for being repetitive.
Director Maneesh Sharma tried to push the envelope for Shah Rukh with this movie.
After the first release of a teaser, audiences keenly looked forward for the unique storyline of a fan being a lookalike of his most-loved star.
Sadly, this trailer reveals a bit too much about the storyline, exposing the fact that Gaurav turns rogue in pursuit of attention from his hero.
During the launch, Shah Rukh clarified that his 'fan' character is "not psychotic, he's not a psychopath". "It's the story of a very innocent boy, who does not get how he feels life would be, when he meets his biggest star."
We hope the movie has more to surprise viewers and we can welcome back the actor in Shah Rukh.
Follow Emirates 24|7 on Google News.