Shah Rukh Khan makes Mammootty, Mohanlal perform 'lungi dance' in Dubai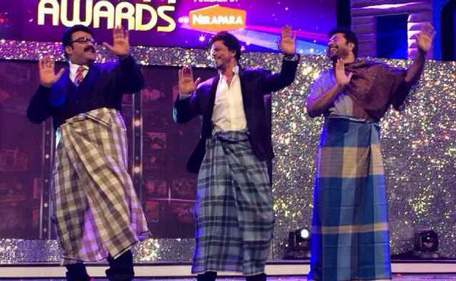 The crème de la crème of Malayalam cinema was present to grace the Ujala Asianet Film Awards in Dubai at the Meydan Hotel & Grand Stand on January 10.

The remarkable ensemble of legendary stars like Mohanlal, Mammootty were not enough for one glittering award night.

The superstar of Bollywood Shah Rukh Khan seemed to be the star or rather 'king' of the evening.

The effervescent Shah Rukh Khan, who probably has the most hectic work schedule, took time out to attend the ceremony. He was also honored with the International Icon of Indian Cinema award.
(Twitter: @iamsrk)

He received the award from Mammootty and Mohanlal. He wrote on this Twitter page, "To be given so much love by Mammootty & Mohanlal sir. Felt like crying receiving so much kindness from artists who inspire me to be an actor".

Millions of Asianet viewers selected the actor for the special connect he shares with countless international fans.

A true entertainer, SRK brought the house down with his famous 'Chennai Express' song "Lungi Dance" and was joined by the two Malayalam star.
(Twitter: @iamsrk)

Besides taking to the stage to perform with southern stars, Shah Rukh also thanked them for their love and support. "And the lungi dance goes to Kerala & it's most loved sons. Mamukka & Laletta. Extremely gracious," he added.

The actor, who ushered in the New Year with his family in Dubai, was back to his favourite destination and he seems to enjoy every time he is in the emirates.

SRK wrote, "Like a dream…like walking on a secret night on an empty road…like feeling a touch for the first time like drinking from the eyes…like love."

"Heading bak to Mumbai,all issues of life seem small. I felt so proud to be an actor tonite. Thank u all & Allah for giving me so much love."

The ceremony honoured both artistic and technical excellence in the Malayalam language film industry.

In its 16th year, the awards are presented annually by the Asianet TV to honour the artistic and technical excellence in Malayalam film industry with over 30 award categories.

The award show comes to Dubai for the second time this year after a successful show in 2012.

Besides the shimmering galaxy of movie stars, who made the ceremony sparkle with their glamour and charisma, leading Bollywood musician and singer Shankar Mahadevan, also grab spotlight as he bedazzled his fans with a live performance, featuring his chart-buster tracks.

A troupe of over 200 performers took the stage for their unforgettable music and dance performances.
Follow Emirates 24|7 on Google News.