Shah Rukh Khan spends New Year playing football on Dubai beach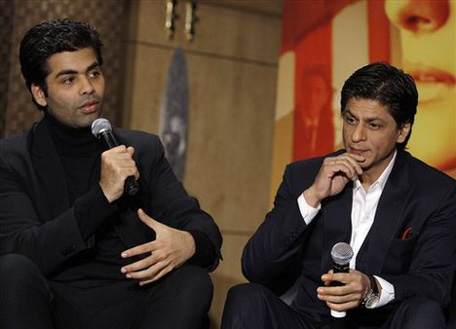 Bollywood superstar Shah Rukh Khan with his wife Gauri Khan, two children, son Aryan and daughter Suhana along with filmmaker Karan Johar celebrated New Year together in Dubai.
After a long shooting schedule for Rohit Shetty's 'Chennai Express' Shah Rukh took time off for family. He spent his mini vacation with his chldren playing soccer in the beach of Dubai.
SRK tweeted: "No greater pleasure than to bring in the year with soccer on the beach with my kids till 5 am. Now in a state of Exhausted Happiness... "
"Year Ends. Endings r Beginnings backwards. So to all a Happy New Year, or as my friend said, just keep the Happy, the rest is an old phrase.," he continued.
Shah Rukh Khan has finished shooting a song sequence for 'Chennai Express' and joined Karan Johar in Dubai, reported Mumbai Mirror.
The two seem to be on a holiday spree. Few days back Karan Johar was holidaying with Shah Rukh and his family in London.

"I am here to spend time with Aryan and Gauri. Shah Rukh, Gauri and I are a unit that has evolved beyond the realms of the film fraternity," Johar told the tabloid.
Johar's decision to fly out and spend time with the Khan family is significant because he had also been invited to party with Salman Khan at his farm house.
With the casting of Karan's next film still waiting to be finalised and persistent rumours of how he may have distanced himself from SRK with an intent to cast Salman in his next, all eyes have been on Johar's every move.
Especially since he has been meeting and chatting with Salman at various venues, adding grist to the rumour mills.
It's all good between Karan Johar and Shah Rukh Khan, the filmmaker clears the air about their changing equation.

"Adi (Aditya Chopra) and Shah Rukh are the two reasons I am in the industry. Shah Rukh is like my older brother, and I am bound to him for emotional, spiritual and professional reasons," adds the director.

Karan's next is a love saga which was first floated by his father, he reveals. The director says it is the most special story he has ever conceived and the screenplay is being finalised, reports the tabloid.
Salman-Shah Rukh Khan rivalry:
Back in 2008, a slightly inebriated Salman Khan offended Shah Rukh Khan when he and wife Gauri Khan came for Katrina Kaif's birthday bash.
Salman was apparently upset with SRK for turning down a guest role in Salman's production, 'Mr And Mrs Khanna' (2009). On being taunted by Salman, SRK retaliated by taking a dig at Salman's past relationship with Aishwarya Rai. It got ugly as the two stars were apparently prepared to fight it out. Literally.
ALSO READ:
Nach Baliye 5: Sania Mirza cannot dance, but Shoaib is set to rock the floor
BIGG BOSS: Salman Khan defends friend-foe Shah Rukh Khan
Follow Emirates 24|7 on Google News.