Shahid hasn't told me we're dating: Priyanka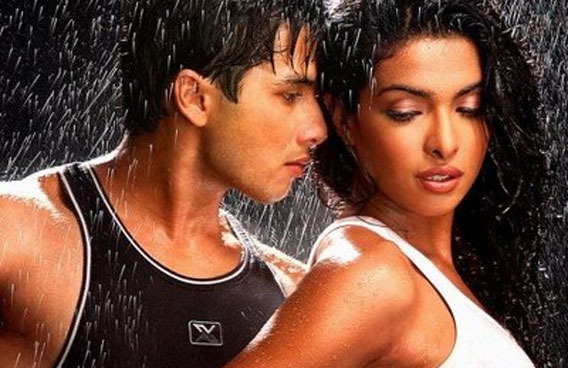 There is no dearth of actresses in Bollywood, but when it comes to talent, versatility and grace, there are only a few who possess all these qualities. And one among them is Priyanka Chopra, one of the industry's most talented and sought after actresses.
While 2010 wasn't a great year for the singer, with back to back flops "Pyaar Impossible" and "Anjaana Anjaani", that hasn't stopped her from signing big banner films and receiving hefty pay cheques.
Emirates24/7 asked her about work, love and more.

Love secrets
For starters, Chopra must have had a cosy New Year with her "boyfriend", the actor Shahid Kapoor. Although rumours have been doing the rounds for a while now – and Kapoor has admitted to close friends that he has been dating her – the former Miss World has been rather secretive about the affair.
When asked to spill the beans, she put the ball in Sasha's court. "Shahid has not told me about it, when he does, I will tell everyone myself," she said rather improbably.
All about awards
Turn the story to work and the phenomenal attention Chopra got after "Kaminey". Even though she did not receive many trophies for her work on the film, she was nominated for almost all the major awards. This year too has not been great on the awards front, but that doesn't shake her belief in the system.
"Awards are encouraging for every artiste. When you win an award the stakes increase and one wants to deliver better work. When I got my first award I felt like I conquered the world and thereafter I won quite a few of them," she said.
The fashionable actress was highly acclaimed for her spotless performance in "Fashion" (2008), but the tally of her awards dropped after that.
A lot of industry people believe that awards are rigged (take for example Kareena); while quite a few actors (read Aamir Khan) find it a waste to attend these functions. But Chopra believes awards are an achievement for the work and performance delivered.
"Everyone works very hard in the film, from the actor to the cameraman to the technician. I got my three awards after hours of hard work and pain, so I don't believe that they are rigged," she insisted.
The actress also feels that the audience votes too can help make or break an actor. Having said that, Piggy Chops – as fans refer to her – has her own likes and dislikes too.
"I really liked 'My Name is Khan' and 'Dabangg'. But thank god I was not a part of the jury as it would have one hell of a task," she laughed.

A busy 2011
This year, she has some big films up her sleeve, including Vishal Bhardwaj's "7 Khoon Maaf" and Farhan Akhtar's "Don 2".
The former will see the leggy lass romancing actors like John Abraham, Irrfan Khan, Naseeruddin Shah and his son Vivan Shah. The actress enjoyed all the attention from her co-stars, but newbie Vivan Shah impressed her the most. Out of all the seven actors, Priyanka has shared a lot of scenes with Vivan and is mighty impressed with his acting. She said: "It is his first film and he was so confident. We have been bonding a lot; it was great working with Vivan."
This talented, bold and sexy lady has given her audience some of the best films, with some of her most challenging roles, but she feels that "7 Khoon Maaf" tops the chart.
"Earlier when I was asked about my most challenging role, I used to say 'Kaminey', and then came 'What's Your Raashee?'. But '7 Khoon Maaf' beats them all. It was tough playing different characters in one film," she said.

Replacing Hrithik
The film has created a fair amount of hype with Chopra's new look and the different roles she plays grabbing a fair amount of attention, as has the news of her replacing Bollywood's 'Greek God', Hrithik Roshan.
But for Chopra this film was a dream role. She said: "I don't know who replaced whom, but Vishal Bhardwaj came to me with the script, I loved it and the film was mine. I blindly trust Vishal and working with him was brilliant."
The actress talked her way out of the question, but is the replacement a reason she didn't attend Hrithik's birthday bash recently? Maybe some secrets are better untold.

Tax raids
And secrets like stashing away crores of rupees to invite the uncalled-for raid by India's income tax department is definitely one of them. That's a nightmare Chopra won't forget as long as she lives. The onetime beauty queen is still shell-shocked with the incident, more so with the news hitting the headlines.
"It's shocking for me that the unsubstantiated-source-based news and rumours are given as reality to fill up front pages. It was shocking for me because this was my first time experience throughout my career. I'm deeply hurt and it's affecting me.
"The news of the discovery of 'six crores' [Rs60 million] at my place is not true. I've never even seen such huge amount in my life so far. I don't think I need to say anything more on that," the visibly upset actress said.

Shahid in shorts
So what about the rumours that her on-again, off-again boyfriend Shahid Kapoor spent the night before the raids at her apartment, opening the door to the tax officials wearing nothing but boxer shorts? A flash of anger darkened Chopra's face: "The only person, my mother, was not there at the time and Shahid lives just three minutes away from my place. So yes, I did call him, because there was nobody I could call at that point. He was the only person who could come immediately. So he was there when this happened."
With Chopra being named one of the highest tax payers in Bollywood, the tax raids were also a surprise to her fans.
"People say it happens with big stars, so I flatter myself. I feel proud that I am in the list of highest tax payers and I think I will always be there," she said, cooler, calmer and more collected.
Follow Emirates 24|7 on Google News.