Simon Cowell collapses, hypnotised by dog during talent audition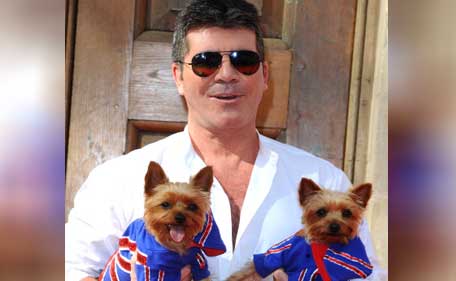 TV mogul Simon Cowell has reportedly been hypnotised by a dog and it's in the name of talent.
The 55-year-old music mogul, who is a judge on ITV variety show Britain's Got Talent, reported passed out during the auditions stages of the competition after staring into a pup's eyes.
The Sun reports, Cowell was auditioning at Manchester's Lowry Theatre on Friday when he slumped over his desk after coming face to face with a German Spitz (Hypnodog), called Princess.
A woman claimed that her pet could hypnotise people by holding eye contact.
Upon returning to his seat afterwards, Simon is said to have told fellow judges Amanda Holden, Alesha Dixon and David Walliams that he felt a little strange.
Cowell posted a snap of his thee identical Yorkshire Terriers on Twitter, he wrote: "Squiddly and Diddly have a new friend. Meet Freddy."
And just seconds later, after the cameras had stopped rolling for a brief break, he reportedly collapsed.
After five minutes, Princess is said to have been brought back on to wake him up.
Hosts Ant and Dec also found themselves forgetting the number seven as they counted to ten together shortly after looking into the dog's eyes.
The news comes just days after Simon introduced the latest addition to the Cowell household via his Twitter page.
Hypnodog is a canine stage hypnotist based in Leeds, West Yorkshire, and has performed at universities around the UK, the Edinburgh Fringe Festival, music festivals such as the V Festival and at Reading, as well as on cruise ships, at hotels and in casinos, according its website.
Follow Emirates 24|7 on Google News.