Sonam Kapoor reveals why she charged Rs11 for 'Bhaag Milkha Bhaag'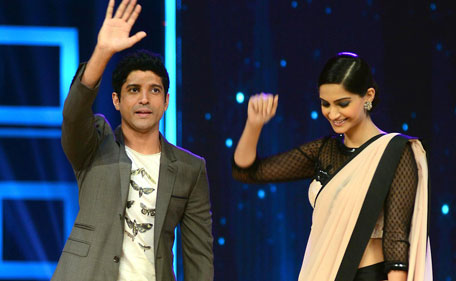 Sonam Kapoor is flying high these days. And can you blame her?

Basking in the success of her second hit film 'Raanjhanaa', in a career spanning six years, Kapoor needed a hit to her name, before being written off by the critics as yet another star kid who crashed and burned without any talent.

However, 2013 appears to have more in store for the 28-year-old, for readying for release on July 11 in UAE cinemas is 'Bhaag Milkha Bhaag', which has already gained accolades in the limited screenings it has hosted around the world.

Albeit, Kapoor herself states its nothing but a special appearance for a dear friend, director/producer Rakeysh Omprakash Mehra, she spills details about the film and her short film career in a candid chat.

—The response for your latest film 'Bhaag Milkha Bhaag' has been great, how do you feel?
I feel great; I'm really proud to be a part of this film. I love working with Rakeysh Omprakash Mehra, so to be a part of Milkha is amazing because it's such an inspirational story, and the inspiration for Milkha is my character, so I think it's beautiful being a part of the story.

—Why did you decide to do 'Bhaag Milkha Bhaag'? Can you tell us a little bit about your role?
For me the reason I did 'Bhaag Milkha Bhaag' was because it was an outstanding script, I wanted to work with Farhan Akhtar and I wanted to again work with Rakeysh Omprakash Mehra. My role is a pivotal role, and it was an honour to play the part.

—You only charged Rs11 (Dh0.89) for your role in the film, what led you to make this decision?
They had a budget and they told me they can't give money and that's why I said give Rs11 and I will do the film. I love Rakeysh Omprakash Mehra. For me he is somebody who gave me a lot of confidence and helped me open up.

—How was the equation working with Rakeysh Omprakash Mehra once again?
I went through a bad patch after 'Saawariya'. When I went on the sets of 'Delhi 6', he made me feel beautiful and made me feel talented.

I was a young kid and wasn't confident about who I am and he gave me the confidence and I will always be grateful for that.

I did 'Bhaag Milkha Bhaag' for Rakeysh Omprakash Mehra. Even if he asked me to walk backwards in the frame I would do it.

—It seems you appeared teary eyed at the promo of the film. How were you feeling at that moment?
The promo shows the blood, sweat and toil of everyone who has worked on the film. This is why I started crying. You guys have seen the trailer and you must have understood the kind of work we have done in the film.
ALSO READ:
Watch Priyanka Chopra's sensual 'Exotic' video with Pitbull
Follow Emirates 24|7 on Google News.