Spider-Man caught in web: Emma Stone to tie down Andrew Garfield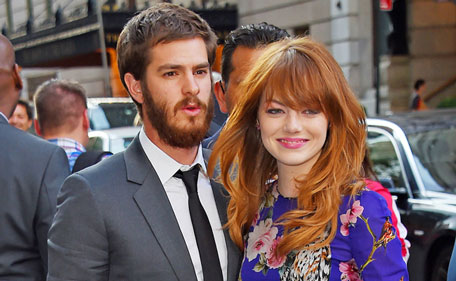 Emma Stone and Andrew Garfield are reportedly planning to get married this summer.
The couple, who started dating in 2011 and sparked rumours they got engaged last May, are said to be secretly scouting for a romantic wedding venue in Rome, Italy.
A source told US OK! magazine: "Andrew would be happy with a city hall ceremony. But Emma wants something a little more dramatic and memorable."
The insider claims the 'Birdman' actress, 26, already has a dress in mind for their ceremony, and is eager to exchange vows in front of just 25 friends and family members.
The duo first started talking about getting married in late 2013.
A friend said at the time: "They want to marry and have a family. They're discussing it. They're madly in love."
Emma recently admitted she is a workaholic as she fears she won't always be in demand in Hollywood.
She said: "I think I have this kind of non-stop neurotic awareness that it won't always be this way, and it hasn't always been this way.
"There have been periods of time throughout it all where it felt like the nature of being an actor is that you finish something and then you feel like you're never going to get another job again, and that doesn't really ever go away. It doesn't really matter what it is you last did.
"It always feels like your fingers are crossed and you're just waiting to see what's going to happen next. So I have a healthy amount of not believing that anything will continue past the next six months or something. Maybe that sounds horribly negative."
Follow Emirates 24|7 on Google News.