SRK left Priyanka alone during 'Don 2' premiere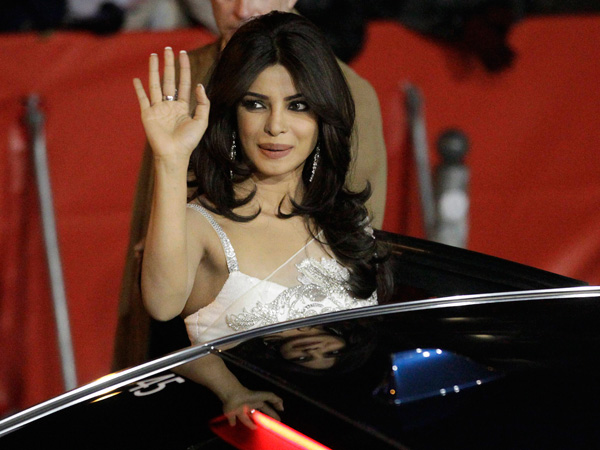 Priyanka Chopra walked the red carpet at the 62nd Berlin International Film Festival's premiere of 'Don 2' all by herself. The leading lady of the movie was not accompanied by any male escort not even the lead actor Shah Rukh Khan.
Whereas Shah Rukh Khan had his wife Gauri Khan by his side when he attended the event.
Priyanka turned on the charm on the red carpet with smoky eyes and a beautiful white saree.
She wore a translucent saree strewn with stone trinkets and a border to match. The see-through saree provided the fans a good look of her well-chiseled body.
Very brave of Priyanka to turn up in a saree in the biting Berlin cold and to walk the red carpet all alone.
She waved and interacted with the fans and gave the best smile possible. She performed all her duties with as much enthusiasm she could muster in her awkward circumstances.
But the awkwardness was obvious. The leading lady must have felt ignored at a red carpet.
She was missing from the post-screening party of the film that was briefly attended by Shah Rukh Khan.
The only occasion she was seen with her hero was when she went on stage after the film's screening. She did not seem very upbeat when Shah Rukh made others perform some signature 'Done 2' moves.
Even the press conference was a dampner for Priyanka. Shah Rukh's absence overshadowed the media event and saw meager interest from the media fraternity.
Priyanka hurried out of Berlin and went straight to Los Angeles to attend the Grammy awards.
Follow Emirates 24|7 on Google News.