Strong opening for Thatcher movie in Argentina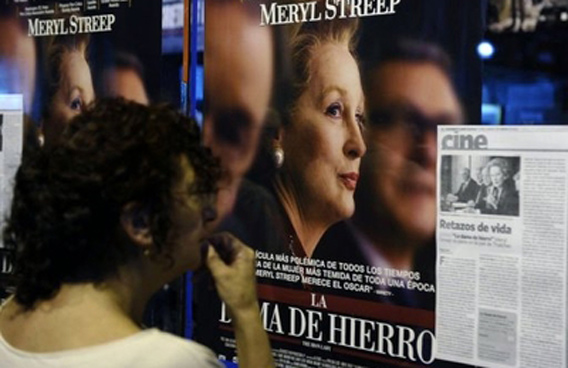 "The Iron Lady," the Hollywood biopic of former British prime minister Margaret Thatcher, had a strong opening in Buenos Aires as the country approaches the 30th anniversary of the war with Britain over the Falkland Islands.

The movie stars Meryl Streep as an aged Thatcher looking back at her career. It includes a segment on her decision in 1982 to militarily defend the windswept Falklands - known here as the Malvinas - after Argentine troops landed on the islands.

The movie "has met expectations for its opening," a source at Distribution Company Argentina told AFP, noting stiff competition from Oscar-nominated movies like "The Descendants" starring George Clooney.

Streep's Oscar-nominated performance "is incredible. Many people are recommending it for her acting," the source said.

Tension has soared between the two countries in recent weeks as the anniversary of the war approaches.

The Falklands, located in the south Atlantic south-east of Argentina, have been held by Britain since 1833 but are also claimed by Argentina.

On April 2, 1982, the then-ruling junta in Argentina invaded the islands, sparking a 74-day war with Britain that cost the lives of 649 Argentine and 255 British troops.

The movie, shown in 40 Buenos Aires theaters, opened fifth overall, according to the ticket tracking company Ultracine.
Follow Emirates 24|7 on Google News.