Sunny Leone's interview lands journalist in 'The Hot Seat'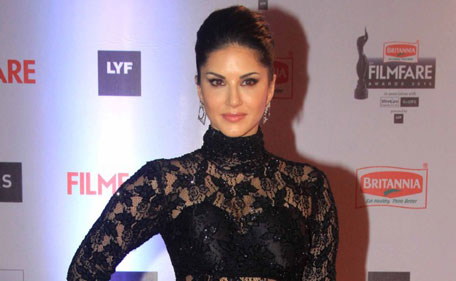 Bullying is never limited to the playground.
From the powerful corridors of global policymakers to the neighbourhood street thug, a bully can wear many masks, as many recently discovered if they tuned in to the verbal vitriol that was packaged as a tell-all interview with Sunny Leone.
Leone appeared on 'The Hot Seat' with journalist Bhupendra Chaubey on IBNLive as part of her promotional obligations in the lead-up to the release of her comedy film, 'Mastizaade'.
While the Bollywood actress has never been apologetic of her 'past' as an adult star, a word Chaubey used with gleeful abandon through the 30-minute misogynistic tirade, the interviewer chose to derail all journalistic ethics in an attempt to railroad her from a moral high ground based on reasons best known to himself.
Over the course of the show, Chaubey chose to rewrite the book on 'Journalism 101' with questions that bordered on bullying to being downright insulting:
"There seem to be lots of inhibitions of stars to work with you. How do you feel about that?"
"I am told that Kapil Sharma, the host of 'Comedy Nights with Kapil', at one point had said that he wasn't comfortable shooting with you because he thought that he had family audiences and Sunny Leone did not fit into the description of family audiences." (Now, if had done his homework, he would know she has been on that show multiple times.)
"You would want to work with Aamir but Aamir would not want to work with you." (Based on pure speculation at this point, as Leone herself pointed out, is a question best posed to him)
"Many Indian married women look at Sunny Leone as a threat and think she'll take away their husbands. You don't care?"
"Atul Anjan, who happens to be a member of parliament of the CPI, has consistently gone on record, and mind you, he is not the only one, the way he holds you responsible for corrupting Indian minds, Indian morality. When these kinds of comments are made, how do you react?"
She tried to reply politely and with her humor in check: "I am waiting for Obama to make a speech about me."

But the coup de grâce was when Chaubey chose to say: "You see a Sunny Leone film, you get morally corrupted. I'm wondering if I'm being morally corrupted because I'm well, I'm, interviewing you..."
It was at this point when Leone dignified armour showed its first crack as she said: "Well, I can leave if you want."
As journalists, we are taught to report on facts, ask hard questions when needed and limit our opinions to the op-ed pages or weekly columns.
Would Chaubey dare pose those very questions to some of the biggest stars in Indian cinema today?
Would a Rekha, Madhuri Dixit or Priyanka Chopra be called upon in such a manner for some of headlines they have seen their names linked to?
Biases should have no place in the media Chaubey. 'Journalism 101'.
Members of the Indian film fraternity have come out in support of the actress, with veteran actor Rishi Kapoor taking to Twitter to say: "Very unfair and rude interview with Sunny Leone on CNN IBN. She is taking it on her chin sportingly, obviously in the interest of her coming film."
Shruti Seth retweeted filmmaker and husband Danish Aslam as saying: "You owned this one Sunny Leone with your grace and poise."
Following the backlash he has received, the journalist in question has written a blog post defending his work.
Whether you agree or disagree with his rebuttal, for fans of Leone, this moment is a definite win for her.
Update: Film actor Aamir Khan has spoken up on working with Sunny Leone after his name was brought up by TV news anchor Bhupendra Chaubey during the now infamous interview on CNN IBN news channel.
In a statement posted on his official Facebook page on Wednesday, Khan stated he would be "happy" to work with Leone, while lauding her on her "grace" and "dignity".
In his complete statement, the actor said: "I think Sunny conducted herself with a lot of grace and dignity in this interview.... I wish I could have said the same about the interviewer.
"And yes Sunny, I will be happy to work with you. I have absolutely no problems with your "past", as the interviewer puts it. Stay blessed. Cheers."
The issue was raised by the news anchor, who speculated an actor of Aamir Khan's repute would not want to share screen space with Leone keeping her "past" in mind.
The Indian film fraternity has largely come out in support of Leone in the past few days, since the interview was aired.
Disclaimer: Views expressed are of the author alone and Emirates 24|7 may not necessarily subscribe to all of them.
Follow Emirates 24|7 on Google News.