Supermodel Gigi Hadid suffers disastrous wardrobe malfunction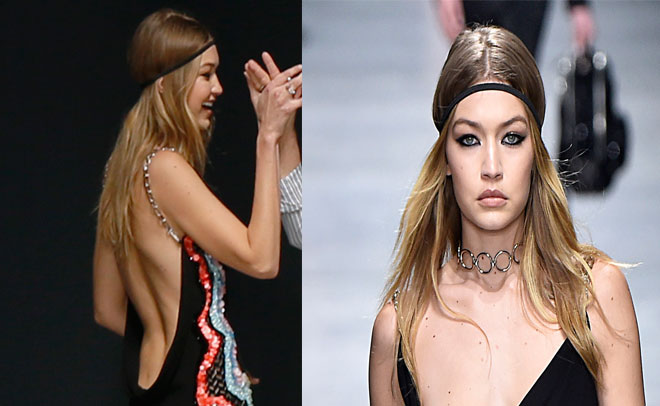 Fashion week veteran Gigi Hadid opened and closed the Versace show in Milan, where she unintentionally displayed more than she wanted to.
The 20-year-old model - who is dating former One Direction singer Zayn Malik - walked for Versace on Friday (26.02.16) and shocked fans sitting on the front row when her low-cut dress slipped down and revealed her asset.
Gigi Hadid walks the runway at the Versace fashion show during Milan Fashion Week Fall/Winter 2016/2017 on February 26, 2016 in Milan, Italy. (Getty images)
Rather than quickly fix the unfortunate wardrobe malfunction, the stunner marched on, and a source recalled to Page Six: "That was even more Gigi than Versace paid for, I bet! They got some bang for their buck with that casting. It was literally the longest runway I have ever seen at a fashion show ever, and she had to walk half of it with her b*** out."
Gigi maintained her professionalism during the show and after it, when she addressed the malfunction on Twitter. It's "unfortunate," she wrote, but not what deserves your attention:
Meanwhile, Gigi features in sizzling bikini shots in the latest swimsuit edition of Sports Illustrated magazine and revealed she texted her 'special someone' when the magazine went to print.
Referring to her new beau, she shared: "I texted my special someone, I always get excited about the pictures...
"He obviously liked the pictures."
Fashion designer Donatella Versace, right, salutes model Gigi Hadid at the end of the Versace women's Fall-Winter 2016-2017 fashion show, part of the Milan Fashion Week, unveiled in Milan, Italy, Friday, Feb. 26, 2016. (AP)
Follow Emirates 24|7 on Google News.