Sylvester Stallone's daughters stole Liam Hemsworth's number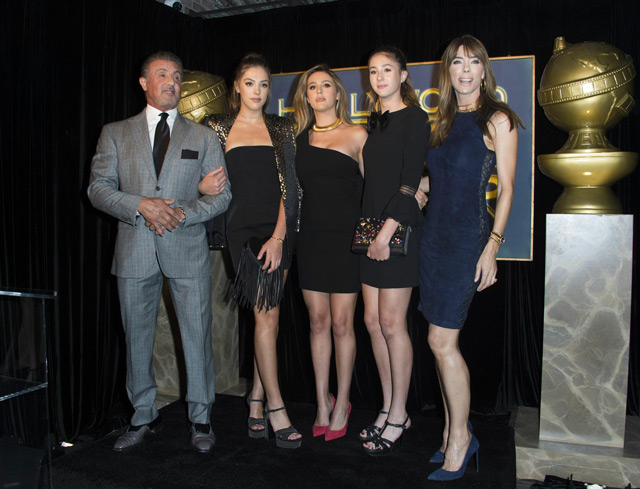 Sylvester Stallone's daughter Sophia has confessed to stealing Liam Hemsworth's number from her dad's phone.
The sibling trio - Sophia, 20, Sistine, 18, and Scarlet, 14 - has confessed to nabbing the 'Hunger Games' star's digits from their dad but admits nothing ever worked out from it.
Sophia said: "When I was little I use to go through my dad's phone and take numbers."
Whilst Sistine added to Harper's Bazaar magazine: "I called him. He never answered."
And Liam isn't the only celebrity the girls have got starstruck around as Sophie has confessed she was "really bumbly" with Ryan Reynolds whilst Sistine's "heart skipped a beat" when Leonardo DiCaprio remembered meeting her and Scarlet "fainted a little" on coming face to face with Ryan Gosling.
Meanwhile, Sylvester's daughters previously revealed they have no plans to follow in their father's footsteps and become actresses.
Asked if she'd like to act, Sistine, who is a model, said: "That's definitely not for me"
However, whilst Sophie doesn't fancy starring in movies, she would love to work "behind the scenes" and plans on working with her father in the future.
She added: "Not for me. I've always loved working behind my dad and learning from him because I have the best teacher. I want to work with him this summer, I hope."
However, there is hope that Scarlett may follow in her dad's footsteps as she hasn't decided on a career path yet.
She said: "I'm only in junior high. I don't know what to do."
And Sylvester trains his daughters to wear heels every day.
Scarlet revealed: "He makes me train in heels for an hour every day so I don't fall. I'm the most clumsy out of all of them."
Follow Emirates 24|7 on Google News.